Power Bank Repaired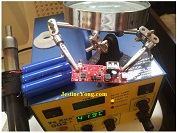 I got this iFans power bank as a gift a few months ago, it's quite handy to have when you are on the go for charging your cell phone or ipod and so on. It has 2 USB ports so you can charge 2 devices at the same time.

I was trying to charge my phone the other day and it wasn't working. I thought maybe the power bank was drained of power and needed charging but when I plugged it to a charger it showed that the battery was almost full.
So I asked at home if anyone was using it and it turns out it fell on the floor while a phone was connected to it and after that it stopped charging.

Nothing lights up when connecting a USB. So I opened it up and removed the circuit board (sorry forgot to take pictures of the disassembly). And then I noticed that the first USB socket was broken off the circuit board along with the solder traces.


The first USB port removed where you can see how the leads are broken off. After tracing the wiring on the board with a multimeter, I found the 2 USB ports have the same +5V supply and since the first one wasn't working as well.

I decided to make 2 jumper cables and connect them together since the pads were ruined. The green wire is the +5V and white/green wire is ground. The two pins the in the middle are used for transferring data (d+ and d-) and since its only used for charging they are not used.

I soldered the battery back on and plugged in my phone and it was working again.

This article was contributed by Ibrahim Safa from Lebanon. He works as a computer and electronics technician in a computer company fixing laptops, desktops, printers and solving networking problem.
He enjoys doing repairs and troubleshooting even on my free time.
Please give a support by clicking  on the social buttons below. Your feedback on the post is welcome. Please leave it in the comments.
P.S-  If you enjoyed reading this, click here to subscribe to my blog (free subscription). That way, you'll never miss a post. You can also forward this website link to your friends and colleagues-thanks!
Likes
(

99

)
Dislikes
(

0

)