Q-TEC 500W P/C PSU repair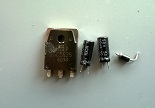 My friend George bought recently this (used) PSU shown below, at a very cheap price, in order for him to use it as a spare PSU for his own P/C.

Unfortunately, when he tested it, the unit was not functioning at all.
When I visited him some days later he asked me if I could fix it. I used his own bench, tools and instruments for that purpose and I opened the unit.
You can see below its internal view.

In the photo above, you can distinguish in yellow color the P.F.C correction coil beneath the small PCB which contains the input filter of the unit, which looks like a small ordinary low frequency power transformer.
This technology, using simply the addition of a coil after the rectifier bridge, was the first applied method for "cos phi" correction in SMPSes. It looks like the filter stage of the good old vacuum tube power supplies, which were using a huge iron cored coil similar to this one in shape along with two electrolytic caps, one at each end of it, forming a "pi" type low pass filter at the output.
The modern ways make use of sophisticated ICs which do this task with much better efficiency than the simple coil right after the rectifier stage. Moreover the inclusion of an active P.F.C circuit in every SMPS, no matter what its use is, is nowadays compulsory. This refers especially to high end units and it is common practice on the manufacturers' part during the recent years. Directives of relevant institutions, which are in effect internationally, make this use of active PFC circuits compulsory.
The first thing I noticed when I opened this PSU was that the big fan mounted at its top cover, beneath the protective metallic grid, was stuck. This is always bad news… Right afterwards I dismantled completely the unit in order to test its semiconductors which control the primary winding of the power transformer.
Below you can see the noise suppressor filter assembly along with the (empty) fuse holder of the A.C input fuse.

The fuse was not only burned with all its metallic material spread around all over the internal glass surface of it, giving it a shiny black colored hue, but its glass case was also broken in pieces! I removed them one by one, both those still standing at the fuse holder and the ones which had fallen inside the unit…The appearance of the fuse in such a condition, made me think that this bad news feeling I had in the first place seemed to be even more intensive now…
I kept on with static tests of the components at the primary side. The rectifier bridge was (remarkably) intact although I was detecting a short circuit right after the burned fuse. Then I removed the heatsink which holds the power transistors which control the primary side of the power transformer. After testing, one of them was completely shorted. Zero Ohms between all of its terminals.
The transistor was a 2SC2625. Because George had no new spare transistors of this type but he has an entire junk-yard there, I searched around and found a similar salvaged PSU using the same transistors which had its fuse intact and apparently had a "no start" problem. I removed both of them from it and after testing them I put them to the unit under repair.
By further testing, I found a fast diode (FR254) short-circuited as well. It was connected in anti-parallel to the collector-emitter terminals of the defective transistor I found before, used as freewheeling diode, for protecting this transistor. Finally I removed both of the protection diodes from the salvaged PSU and replaced both of the similar diodes of the unit under repair.
The first one found defective is the diode you see in the photo below, just below blue disk capacitor at the middle of the two electrolytic caps. The second one is that shown just below the left electrolytic cap, near the heat-sink. The defective power transistor which I replaced first is located exactly behind the first aforementioned diode, mounted on the front-right side of the heatsink shown. You can distinguish the end of its holding screw at that place on the heat-sink's body. For space economy I didn't take many and detailed photos…

In the driver circuits of these transistors were also used two small 10µF/50V electrolytic capacitors. Since George doesn't own an ESR meter up to now and me thinking over again the very likely overheating which the circuit had suffered because of the blocked fan, I decided to replace them both without previous test of them. But before disposing them off I kept them in my pocket in order to test them at home…I was thinking of the blocked fan and didn't want to expose the switching transistors again in any likely further risk of inefficient driving, in case these two caps were dry…
When I was back at home this fear I had about those caps proved to be true. Both of them were measuring open circuit (meaning more than 100Ω ESR for my own meter)…
By the way here is another tip for you:
Whenever you see a power output driver circuitry which makes use of those small electrolytic capacitors, it is certain that the power semiconductors of the output stage are ordinary power BJTs (=Bipolar Junction Transistors, i.e. not MOSFETs). So if you find them exploded, at least you will know what kind of semiconductors they were.
Below you can see all the defective parts I found (except the broken 5A fuse of course).

After finishing the repair of the electronics, I dismantled its fan and made maintenance on it cleaning the petrified grease debris from its sleeve type bearing and the rotor axle and re-lubricating it. Next, I checked the bearing for excessive wear and found it intact. I finally confirmed this by applying externally 12V to it. It was spinning smoothly without making any mechanical noise or vibrating.
Then I reassembled the entire unit and ran a lamp test on it. Everything was in order. The unit started normally without any surprises. I removed the lamp, connected it directly to the mains and loaded it up with a load that George made using many halogen lamps connected in parallel. A real stove for the winter! The unit was functioning normally with the load at its output drawing a lot of current.
Because I could not estimate accurately the condition of the electrolytic capacitors of the output filters, due to unavailability of an ESR meter, I measured the A.C component in all its D.C outputs using his oscilloscope, while they were heavily loaded. I had no other option about that needing to confirm that it would function properly and reliably when put in ordinary use. All outputs presented normal level of ripple and noise components, meaning that their filter caps were functioning properly.
The unit was already fully operational, ready to serve George for some years to come.

This article was prepared for you by Paris Azis from Athens-Greece. He is 59 years old and has more than 30 years' experience in electronics repairs, both in consumer and industrial electronics. He started as a hobbyist at the age of 12 years and ended his professional carrier as a senior electronics technician.  He has been a specialist in the entire range of consumer electronics repairs (: valve radio and BW TV receivers, transistorized color CRT TV, audio amps, reel and cassette tape recorders, telephone answering and telefax devices, electric irons, MW cooking devices e.t.c) working in his early stages at the official service departments of National-Panasonic first and JVC afterwards, at their premises in Athens.
Then he joined the telecoms industry, working for 20 years as field supporting technician in the sector of DMRs (: Digital Microwave Radio transmission stations), ending his carrier with this subject. Now he is a hobbyist again!
Please give a support by clicking  on the social buttons below. Your feedback on the post is welcome. Please leave it in the comments.
P.S-  If you enjoyed reading this, click here to subscribe to my blog (free subscription). That way, you'll never miss a post. You can also forward this website link to your friends and colleagues-thanks!
Note: Please check his previous repair article in the below link:
https://www.jestineyong.com/atx-psu-modified-into-a-car-battery-charger-part-3/
Likes
(

111

)
Dislikes
(

1

)