Repaired An Electronic Welding Inverter. Model: Selco Genesis 140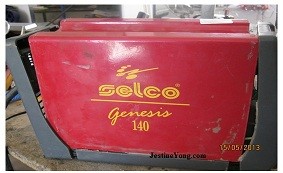 A welding technician brought this welding inverter to my shop and the problem was, it does not weld. He said that it used to work but since he used a power generator to power up this machine, it stopped working. For your information, electronic welding machine is not supposed to run on power generators. That is the first warning in the user manual written in big highlighted fonts. A lot of people do not read the user manual before using the machine and that is really bad.

I powered the machine and I could hear the fan running. When I tried to weld with it, it did not work and I could see a warning message on the display of the machine with a yellow LED on. I downloaded the user manual and the warning said, it had to do with overheating. I unplugged the machine and opened the cover and took a look inside of it. I could not see any burnt component there so I guess it is time to check for bad component. 

I checked some component on board and found three SMD diodes shorted out. Two of them had the part number 1016 and the smaller diode had DS6 written on it. I replaced them with working SMD diodes. I found another diode near the relay on that board and replaced it as well. All these diode replacement did not make a difference because the problem remained.
My thoughts were heading to replacing the computer chip on the main board because I think that is the main problem but I could not locate the replacement part. I sent the company a message asking for this part and they said they will send it right away.  The chip was not that expensive and the shipping fees were reasonable.
I got the chip installed. I turned the machine on and it came on and this time the yellow LED light did not come on. I plugged the welding cables in and tried the machine. It worked nicely. I could see the yellow LED comes on and off but not very often which I found later on that it is normal in this machine.

This article was prepared for you by Waleed Rishmawi, one of our 'Master Authors' and currently working in the Bethlehem area of Palestine repairing electrical and electronic equipment. Please give a support by clicking  on the social buttons below. Your feedback on the post is welcome. Please leave it in the comments.
Likes
(

123

)
Dislikes
(

4

)