Review Of Smart SMD Component Tester model BM8910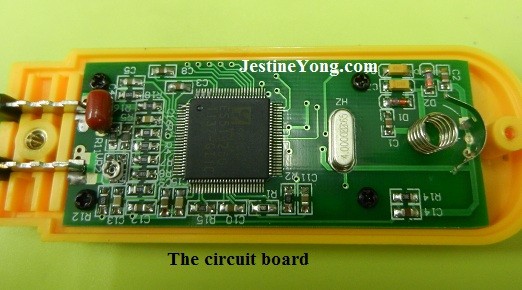 This SMD Tester is suitable for testing Surface Mount Device (SMD) components and it is a convenient one hand operation tester. To turn on the tester just press and hold the Function button for one second and you can start to perform the test. If you would like to turn it off, press and hold the Function button again for few seconds and it will be turned off. Check out the photos below that have the explanation of this tester:














Advantages of the Smart SMD Tester:
1) Compact/Light/ Handy design
2) Easy to use- Just turn on the tester and you can check on the components with the autoscan component function. If you want a more specific test you can manually select on the right range to test on the components.
3) Big LCD screen for easy viewing
4) Cheap price (about USD30 +) including shipping-as compare to other SMD Testers in the market.
Disadvantages of the Smart SMD Tester:
1) The tip of the probes is not as sharp as the one by Smart Tweezer thus sometimes while checking on the components, it can be slipped.
2) It does not have a manual to guide you how to use this tester. You may have to figure it out on your own
3) It can only test Resistors, Capacitors and Diodes. In other words the testing function is limited
4) Just like any other tester, it can't be use to test onboard. The components need to be soldered out for accuracy testing.
For more details and specification you can visit the company main website at http://www.cnbjyb.com
Note: If you order from Ebay.com, I suggest that you email the owner if you want the tester to reach your place fast and secure. Of course you have to pay for the additional shipping charge. If you do not wish to pay the extra fees and continue to use the free shipping then you need to wait about 15 to 30 days for it to arrive.
Special notice: I do not endorse that you should use this Smart SMD Component tester nor I'm affiliated with any of the ebay seller. This is just a review based on my own opinion. If you think that you want to buy this tester, then you have to take your own responsibility. Just visit Ebay.com and key in BM8910. If you need any info about this SMD Tester you need to sign up at Ebay.com and from there you can contact the seller for alternative payment and mode of shipping.
If you do not wish to buy any SMD Tester you can always get a SMD Test probes connected to your favorite Digital Multimeter as seen from the photo below:

If you have any question about this post please feel free to comment-thanks.
Jestine Yong
Likes
(

4

)
Dislikes
(

0

)