Broken RF connector in Insignia LCD TV Repaired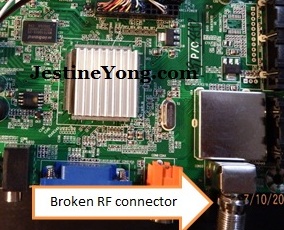 A friend of mine told me about her Insignia TV that had a broken RF connector. It's a 12V TV that she uses in her camper so she can watch TV when she is camping. She forgot about it and started driving before putting it up, and it fell onto the bed and broke the connector. I told her I would fix it for her.
There is plenty of room in the TV since it has an external power adapter that plugs into it. You just have to be careful opening it up because it has short cables going from the PCB to the LCD display.
I checked the PCB's over good for bad solder joints, bulged capacitors, or anything else that might be a problem in the future, even though she said it was working fine before she broke the RF connector. Lucky for her that the TV fell on the bed and didn't break anything else!
Everything looked fine and the capacitors looked like good 105C caps. So I ordered some RF connectors on Ebay.

When my RF connectors came in I unsoldered the RF connector and soldered in the new connector. I cleaned the flux from the PCB and put the TV back together. She didn't remember to bring the power supply when she brought the TV to me so I can't take a picture of it playing, but I'm sure it will play just fine unless there is another problem. If so, then she'll have to bring it back to me! I'm sure she will be happy to have her camping TV back and working!

Robert Calk Jr. is a Hobbyist from the USA and loves learning electronics and how to repair electronic devices.
Please give a support by clicking on the social buttons below. Your feedback on the post is welcome. Please leave it in the comments.
P.S- Do you know of any your friends who would benefit from this content that you are reading now? If so, forward this website to your friends or you can invite your friends to subscribe to my newsletter for free in this Link.
Likes
(

133

)
Dislikes
(

0

)