Saved Two More ATX SMPS From Dump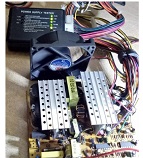 I request you to refer to my previous article of July, 2018 in connection with the above SMPS : 14 Bad Components Found In Intex SMPS Model Smart IT-2045S+ (Unbelievable) | Electronics Repair And Technology News (jestineyong.com)
This SMPS was brought to me again in July, 2021 (after successful working for the last three years without any problems) with the complaint that the computer gets shut down and it worked when another working SMPS was connected. As the SMPS belonged to the hospital where I work, the staff had already done the cleaning saving my time on it.
On opening and inspection, I saw one yellow wire had come off, thought it remained in its place. So, I pulled it out and cleaned the end for soldering it back:

After soldering it back in its place, looked for any other visible problems in the SMPS and connected my ATX tester and found it to be working very well. The soldering was also perfect and there was no need for a retouch. (Kindly see the first picture).
The next one was an iball SMPS, which was reported to be going off after a few minutes working. After opening and subjecting it to thorough inspection for any dry solder or bulged caps or visibly damaged components, I rotated the fan by hand and found it to be not smooth enough.
So, opened its cap and applied lubrication oil, upon which it got free. Then, when I connected the ATX Power Supply tester, it was found to be working very well.

Missions accomplished and double satisfaction got added on the same day! (As reported in my earlier articles, this completed saving all the five SMPS brought from the hospital).
Unfortunately, though these ATX SMPS can be economically serviced and brought back to life most of the times, computer users as well as service providers seldom get it repaired and preferred to replace with a new one. Just see two simple reasons why these did not work. I am sure these would have gone for a dump, if it had happened elsewhere!

This article was prepared for you by Parasuraman Subramanian from India. He is 72 years old and has more than 30 years' experience in handling antique equipment like Valve Radio, Amps, Reel Tape Recorders and currently studying latest tech-classes conducted by Kerala State Electronics Technicians' Association. He has done graduation in BBA degree, private diploma in Radio Engineering and retired as MD of a USA company. Presently working as Consultant to Hospital and other institutions.
Please give a support by clicking on the social buttons below. Your feedback on the post is welcome. Please leave it in the comments.
P.S-If you enjoyed reading this, click here to subscribe to my blog (free subscription). That way, you'll never miss a post. You can also forward this website link to your friends and colleagues-thanks!
You may check on his previous article on Assembled A Timer 555 For Water Boiler
Likes
(

72

)
Dislikes
(

1

)