TDA7266 IC Faulty Causing No Sound In TV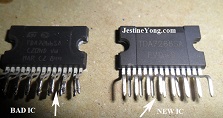 A customer of mine sent to me this Singer Slim TV with the complaint of no sound but other features were all fine. Usually, if there is no sound in TV, the problem could be due to:
Bad speakers
Broken speaker cables
Dry joints in the audio IC
Improper or missing DC  supply voltage the audio IC
Faulty Audio IC
Corrupted EEPROM data and etc
So in this case I checked on the speakers first since this is the most easiest component to check. I took out the speakers cables and checked and found that both have low  and same resistance which means they are both good. If no readings means the speaker resistance is already open circuit. You can click here to read Yogesh 's post about checking TV speakers. Next, I tested the output audio jack using external speakers and there were no sound too.

The next test I performed was to measure the DC supply voltage to the audio IC TDA7266 and it showed 11.9 VDC which also means good-see the two photos below:


I left only one choice which is to direct replace the audio IC TDA7266 and retest the set. I had in stock this IC and replaced and retested the sound.
Surprisingly the sound came back after the IC replacement.

You can click on the IC datasheet below to view the complete information about this amplifier IC.

I was so happy that the sound came back to life and wish to let you listen to the TV sound. I could only captured the photo of a working TV -below photo:

Conclusion- Assuming if after the replacement of the IC and the TV still has no sound, the next test would be to check on the EEprom IC. You can click here to check on my previous post about faulty EEPROM IC that has caused no sound in TV. If you wants to be good in CRT TV repair you can check out Humphrey's ebook Here.

This article was prepared for you by Suranga Bandara who owns an Electronics repair shop in Anuradapura, Sri Lanka.
Please give a support by clicking on the social buttons below. Your feedback on the post is welcome. Please leave it in the comments. If you have electronic repair articles to share with us, please contact us HERE.
P.S-  If you enjoyed reading the above article, click here to subscribe to my blog (free subscription). That way, you'll never miss a post. You can also forward this website link to your friends and colleagues-thanks!
Note: You may check out his previous post in the below links:
https://jestineyong.com/16-33-v-5-47v-x-2-linear-transformer-fault/
Likes
(

82

)
Dislikes
(

0

)