Tektronix 2465A DV Oscilloscope Memory Backup Battery Replacement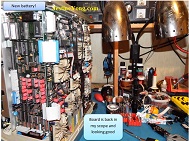 My Tektronix 2465A DV Oscilloscope is in near mint condition, but it is still old. The backup battery looks like it is the original battery that was installed when the scope was made. It is a KeeperII #LTC-7P, 3.5V 750mAH lithium battery. It has the number 4286 on the side of it that I believe means it was made in the 42nd week of 1986. I bought a new LTC-7P battery from www.mouser.com.
I heard that it would cost me several hundred dollars to have the battery replaced because the scope would need to be recalibrated. Well, I can't afford that right now. So I decided that I should be able to replace the battery myself. Normally, I would just tear right into stuff; but not my scope. It's too expensive and I'm not sure I would be able to find another scope in this good of shape for a decent price. I also needed to make sure I did not lose my memory and need to have my scope recalibrated.
I'm a subscriber to Alan's YouTube channel, "w2aew". Alan is an excellent teacher and has many great videos, including many useful analog circuits. I recommend everybody to subscribe to his channel. He was very kind to help me out when I asked him, which helped me be confident in working on my scope myself. Also, a few commenters were nice to offer some tips and advice. Their YT names are: German Alvarez, Paul Collins, and nodriveknowitall. Thanks for the help guys!

The above picture shows my scope with the front cover on it. It was hard to find one, but I finally did – and it wasn't cheap either. But I'm glad I found one because it helps protect the CRT and knobs. It also makes taking it apart much easier when I can just stand the scope up on its face without fear of damaging anything.

This is a view of the back of my scope. My scope is standing on its face, the knobs and CRT being protected by the face cover.

With the back cover off, you can see the fan. At this point all I have to do is lift the case up and off of the scope.

With the cover lifted up and off, we can see the inside of the scope. This is the board that has the backup battery (LTC-7P) at the top. The number for the battery in the schematics is BT2570, which you will see in later pictures of the schematics. Notice how clean the scope is? It's nearly 30 years old and hardly a speck of dust inside it!

In this photo I show and label the key components in the battery circuit. I will connect the temporary battery positive wire to the cathode of  Schottky Diode CR2770, and the ground wire to the cathode of the tantalum cap C2470. That will give me plenty of room to change the batteries without the temporary power wires getting in my way. For my temporary power supply I am using a battery holder that holds 2 AA batteries. If I understood everything right, I will be ok as long as the voltage doesn't drop below 2 volts. So I should be ok. I am using 2 brand new AA Duracell batteries, so the voltage is a tad over 3.2 volts.
Everything in my workroom is on the same ground plane. So I can't use my DC Power Supply and my soldering iron at the same time on the same circuit. I thought the output ground was isolated from the main ground on my Tenma Variable Isolation Transformer, but it's not. But using batteries is easier anyway.



Here is a look at the battery circuit and component placement schematics.

Here the PCB is removed from my scope. The connectors have very little play. So I was real careful removing them. I used small precision screwdrivers to help pry up on the connectors in a little slot at the bottom while I gently pulled and wiggled them out. They were in pretty tight, but not too tight.

Here I show the old and new battery side by side. You can also see the diode that I will solder to on the back of the PCB.


I'm sure that I don't have to tell you that I was extra, extra careful with my scope PCB. I triple & quadruple checked everything before I made a move! I turned my soldering station a little lower than I normally do, and I was more careful with my Hakko 808 De-soldering gun also; limiting contact to the PCB to no more than 3 seconds soldering on each pin, and 1 second at a time with my de-soldering gun. It turned out great!
I can't believe I forgot to take a picture of the PCB with the new battery soldered in! Double Facepalm!! I was so happy that everything went so well that I clean forgot to take a picture of it! I took a picture of the top side but not the bottom. Oh well, I'm not taking it all apart again to take a picture, sorry – my fault. But if you have seen my other articles then you know that I do pretty good soldering.

I took a picture of the top of the PCB and totally forgot to take a picture of the bottom side. Maybe I should start making videos instead of articles!
Look how clean and beautiful the PCB is. It is a work of art! I didn't vacuum it or anything. That is how it looked when I opened it up.

The connectors are very tight and don't have much, if any play. But I was very careful not to bend any pins, and took plenty of time to make sure everything was perfect.

Praise The Lord everything went well and my oscilloscope is working great! It was a lot of fun. I hope you guys enjoy the article. I would like to say thanks again to everyone that has helped me in my hobby of learning electronics and device repair, and helped me with my oscilloscope – Thank You!

Please leave any comments and suggestions below. And don't forget to check out Alan's YT channel "w2aew", you will be glad you did! Robert Calk Jr. is a hobbyist from Texas USA that loves learning electronics and electronic device repair.
Please give a support by clicking  on the social buttons below. Your feedback on the post is welcome. Please leave it in the comments.
P.S-  If you enjoyed reading this, click here to subscribe to my blog (free subscription). That way, you'll never miss a post. You can also forward this website link to your friends and colleagues-thanks!
Likes
(

162

)
Dislikes
(

1

)