Treadmill with Error 2 Repaired. Model: York Blazer 4090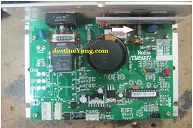 A taxi driver, also a friend of mine called me during lock down (because of Covid 19) and asked me if I can work on his treadmill at home. I told him, if he can bring it to my shop I am willing to try. Later on he showed up to my shop with only this board.

According to the customer, there was an error code 2 showing on the display of the machine but there was no way of knowing since he brought only the board.
The idea is to check the board for bad parts and hope for the best.

The moment I looked at the board, I saw a dark resistor connected in parallel with a 10k ohm.
And as I was testing roughly all the diodes, I came a across a shorted one near the main pins of the motor.

The only way to go here is to replace these burnt and shorted parts and send it with the customer to see if it works or not.

As expected, the resistor was open and needed replacement. Once I replaced it and replaced the shorted diode, I called the customer to come and pick up the board.
One hour later I got a call from the customer and I could hear the good news in his voice that the machine was up and running.
It was an emergency repair since the customer could not load the whole machine in this car but I was so happy that it worked out this way.
Mission Accomplished.

This article was prepared for you by Waleed Rishmawi, one of our 'Master Authors' and currently working in the Bethlehem area of Palestine repairing electrical and electronic equipment.
P.S- Do you know of any your friends who would benefit from this content that you are reading now? If so, forward this website to your friends or you can invite your friends to subscribe to my newsletter for free in this Link.
Note: You can check his previous repair articles in the link below:
https://www.electronicsrepairfaq.com/a-simple-and-easy-modification-to-a-dead-battery-charger-repaired
Likes
(

58

)
Dislikes
(

0

)