UPS-SL650 Repaired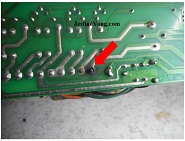 This UPS-SL650 was brought to me and the complaint was no power.

I found the ON/OFF knob in the front panel was broken.

But fortunately I had a spare from another similar unit, so it was replaced.

Note the number of pins is not equal, therefore the ON/OFF knob had to be replaced from one front panel to the other one.
When the device was tested some troubles appeared, and when I put my magnifying glass to look at the circuit board, see what appeared now:

There was a burnt solder joint in the PCB.

As you can see from the above photo, the connector was extracted and it was fully damaged, therefore as I had no spare connector I had an idea: to substitute this pin for a long wire (in case in some other time any tech has to extract this connector the cable is long enough to permit this action) soldered in the same track.

By the way the contacts of the five relays were re-soldered, and the same with some other cold solder joints there were in the circuit. Look at the following photo how was the device before closing it.

I replaced the battery also because it was not in good condition.

The UPS was tested and look at the result:

Mission accomplished, another electronic device saved from the dump.

This article was prepared for you by Humberto Rodriguez, one of our 'Master Authors' from Cuba.
Please give a support by clicking  on the social buttons below. Your feedback on the post is welcome. Please leave it in the comments.
P.S-  If you enjoyed reading this, click here to subscribe to my blog (free subscription). That way, you'll never miss a post. You can also forward this website link to your friends and colleagues-thanks!
Note: You may check his previous repair article in the below link:
https://www.jestineyong.com/my-home-pc-repaired/
Likes
(

115

)
Dislikes
(

0

)