20,000mah Battery Power Bank Problem Solved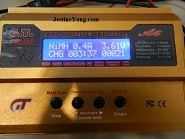 I bought a 20,000mah battery power bank from my relative for my family members to use it. I thought we will use this power bank but the fact is we rarely use it. In fact I was totally forgotten about this power bank. When I found this power bank, I realized that it already never been used for more than 6 months! I tried to turn it On and it can't be turned On. I even tried to charge it using the handphone charger, the result was the same.


I guess I have left it too long and the battery power could had been depleted.  Once the battery voltage is too low or no voltage at all, it would be hard for the charger to charge it. It has to have some minimum voltage in order for the handphone charger to charge it.


I opened up the cover and measured the batteries and it was zero volt (flat)! The batteries are connected in parallel and are from the Lithium Ion type (18650). Each battery is rated as 3.7 volt.

From the experience of flying small RC Helicopter that use the lithium polymer batteries, I knew that once the battery is flat or too low, one has to use an external charger to slowly charge the battery until it reach certain level of voltage before you can use back the RC helicopter remote control (that come with a built in charger) to charge it.
So in this case you need to charge the Lithium Ion battery first using the Lithium Ion charger before you can charge it using the handphone charger. Since I do not have the Lithium Ion charger, I had to try it out by using the GT Power battery charger and set to Ni-MH mode (Nickel Metal Hydride).
I have chosen low amp slow charge. After couple minutes of charging I could see from the charger display screen the voltage is slowly rising and the batteries were not hot. I continued to monitor the voltage and the temperature of the battery even after more than half an hour and it seems all to be in good condition. By the time it reached one hour, the battery voltage already increased to 3.129 volt.

I continued to charge it for another half an hour before putting everything back and turn the power bank On.


Guess what? Not only it can be powered On, it can also be charged by using the handphone charger. Once the power bank is fully charged by the handphone charger, I then connected it to my phone and sees if it can sustain the power draw from my phone. The result was great.

It can charge my phone and even though my phone battery already full, I still could see there are still power left in the power bank by looking at the number of LED bar at the top right-see the photo below.

Note: If you have a NI-MH charger that can't be set to low amp slow charge then do not use it because a fast/high current charge can destroy the battery or even cause explosion. If you are not sure about this, I suggest that you buy the Lithium Ion charger.

This article is brought to you by Jestine Yong
Please give a support by clicking on the social buttons below. Your feedback on the post is welcome. Please leave it in the comments.
P.S- Do you know of any your friends who would benefit from this content that you are reading now? If so, forward this website to your friends or you can invite your friends to subscribe to my newsletter for free in this Link.
Likes
(

185

)
Dislikes
(

0

)