An Easy Fix to a Professional Audio Device. Model TASCAM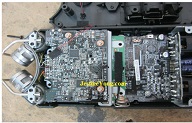 An American guy brought his professional device for repair. The customer explained that the device was deserted for a long time. When he tried to use it again, it did not work.

I have opened and worked on these devices before but the older versions. This is an excellent device and many audio professionals use them because they are very small and easy to carry and operate.
I added fresh new batteries to the device and as expected, the fault remained.

Taking the back cover off was easy and I could see inside the device. As I scanned the device under the microscope looking for any burnt components, I found none.

I traced the main line of the batteries inside the device and that lead me to go under the Mic's input section. Once I took that off and checked for faulty components, again I found none.
I spent about an hour or so looking for bad component and finally I gave up and started looking for information about it over the net.
The first search I did lead me to an easy answer to the problem. According to the information that I got over the internet, if the device was deserted for long period of time (the customer confirmed that) , it goes though sleep mode and If the operator wanted to use it again, he has to press the power button twice, one short press and then a long press till it comes on.
After all this time I spent trying to find out what was wrong with it, I was willing to give it a try.

To my surprise, the method actually worked. That is a new experience for me and I am sharing it with you guys.
Mission Accomplished.

This article was prepared for you by Waleed Rishmawi, one of our 'Master Authors' and currently working in the Bethlehem area of Palestine repairing electrical and electronic equipment.
P.S- Do you know of any your friends who would benefit from this content that you are reading now? If so, forward this website to your friends or you can invite your friends to subscribe to my newsletter for free in this Link.
Note: You can check his previous repair articles in the link below:
https://jestineyong.com/blown-varistor-but-mosfets-were-good/
Likes
(

65

)
Dislikes
(

0

)