Blown Varistor But Mosfets Were Good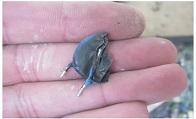 A welding technician brought this tiny welding machine for repair. The cause for this dead welding machine was due to the fact it was powered by a power generator. A few seconds after the welding process started, something blew up inside the machine and it was dead.

The welding technician knows that this machine cannot be powered by a power generator but the one who hired him to do that welding job insisted on doing that. In the process, the boss promised to buy the welder a new welding machine and if this machine is repaired then he will have an extra machine to work with.
I do not accept such repair cases because the damage is too much and usually I would waste my time trying to fix it and if it was fixable then it would be too expensive. I was willing to help this guy out because he is a good friend of my brother.

It is a two board welding machine and I was expecting the worse when I took the cover off. To my surprise I did not see any physical damage on board and that is a good sign.

The only thing that I saw that was damaged and actually burned was the varistor near the capacitor area and that put a smile on my face. I think that varistor protected the machine from fully being damaged and that gave me some hope.

This is what was left of the damage varistor which shows the damage force that was imposed on this machine.

To my surprise, none of the Mosfets were found shorted and when I say "to my surprise" because I have seen machines being powered by power generators and get damaged beyond any repair.
I replaced the damaged varistor with a new one and made sure that all was well with this machine; I put everything back together and tested the machine.

Power came one and that is a good indication that all was well. If the Thermal light was on then I would be worried but it was not and to that I could say…
Mission Accomplished.

This article was prepared for you by Waleed Rishmawi, one of our 'Master Authors' and currently working in the Bethlehem area of Palestine repairing electrical and electronic equipment.
P.S- Do you know of any your friends who would benefit from this content that you are reading now? If so, forward this website to your friends or you can invite your friends to subscribe to my newsletter for free in this Link.
Note: You can check his previous repair articles in the link below:
https://jestineyong.com/a-dead-treadmill-was-brought-back-to-life-model-york/
Likes
(

63

)
Dislikes
(

0

)