Audio Interface Repaired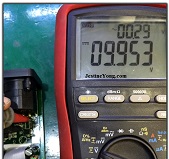 A customer brought me this unit to repair. It is an audio interface used for recording.

It was an easy fix, but I thought I would share some ways of finding a shorted component that is dragging the supply rails down. This was the case with this unit.
There are 3 ways I use to find shorted IC's when doing these type of repairs. First I use my sense of touch, and feel around the board for hot areas, while the unit is powered on. I found an area with two op-amps and a Multiplexer IC that was feeling hot.

I then used some freeze spray to confirm my suspicion. The larger 14-pin IC was "un-freezing" first, long before the other two 8-pin op-amp IC's. This means it is dissapating a lot more watts due to a short, and is drawing more current.

Another method you can use is by using a DMM set to ohms range, with the unit powered off. Measure across each IC's supply pins. The one with lowest ohms reading is faulty. Usually a good IC should read a couple of Kilo ohms.


From the above pictures you can see the 14-pin IC (74HC4066) has the lowest reading of the three. Definitely shorted. Another method I use is to measure voltage across supply pins of each IC. There can still be a small voltage present even if one is shorted. You may have to put your multimeter in mV range if the voltage is too low. Here you can see the 14-pin chip again measures lowest of the lot.


This is the method I use most, as it is the quickest test. I then went about replacing this IC. First to make things easier I apply some flux to all the pins, and solder link all of them. The solder blob helps the hot air reach all pins faster.

I then remove with my hot air station and tweezers. You could use a normal heat gun.

I then clear all the pads of solder using flux and solder braid, and then clean with some Isopropyl Alcohol and a brush.

Without the faulty chip, I now measure full supply rails.

So this again confirms that this was in fact the faulty IC. Using some more flux and solder I then solder new chip in place.

After the replacement all voltages checked out fine. I hope this helps someone, as it's just some of the techniques I use in my workshop.
Enjoy!

This article was prepared for you by Riaan Diedericks. He runs his own electronics repair shop in Pretoria, South Africa. He specializes in Pro Audio repairs.
Please give a support by clicking  on the social buttons below. Your feedback on the post is welcome. Please leave it in the comments.
P.S-  If you enjoyed reading this, click here to subscribe to my blog (free subscription). That way, you'll never miss a post. You can also forward this website link to your friends and colleagues-thanks!
You can also check his previous repair article below:
https://www.jestineyong.com/subwoofer-repair/
https://www.jestineyong.com/audio-mixer-repair/
https://www.jestineyong.com/bw-subwoofer-amp-repaired/
Likes
(

262

)
Dislikes
(

1

)