Blown LCD Lamps Replaced….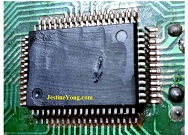 This multimedia speaker system was brought to me with the complaint that it was having distorted output and was intermittent and was lying unused because of that for quite some time. Such inputs are absolutely necessary for us to focus on the possible causes and I do screen the customer's complaint before accepting any work.
Primary duty is, as always, to open and clean, which I did. While cleaning itself, we can complete our preliminary observation for any cracked or burnt components etc. Opening this set is a bit tricky, or rather shall I say 'sticky' job! The back cover, which holds the PS-cum-Amp and Pre-Amp PCBs, can be removed by unscrewing the holding screws, and sliding it out. It will have connections from the Transformer, Central Woofer, and front control, apart from the inter connections of the board. But for removing the front control PCB, which is stuck by glue, we need to pry open slowly, without breaking the plastic panel. It will leave some marks, however careful we are, but unavoidable!





From the last picture, perhaps you can make out, how the front panel is stuck to the base! Though it has inserting type legs, gum is used to avoid vibration noise. I removed the transformer also to try out the working later keeping it outside, once the rectification work gets over.
I observed a lot of dry solders, which I patched up. The leg of one fuse holder was found cracked/detached and I could not assimilate the reasons for it! So, checked the rectifier diodes and found one leaky. Replaced the Diode. Found clogged gum in the front control PCB as well as the input selector PCB. Scraped and removed these and did dry solder patch-up on all the boards, cleaned it thoroughly. Found the uController IC in the front panel is scraped, probably to prevent anyone else knowing its number. Very poor and cheap tactics done by many suppliers. But never expected this from Philips! Some pictures below are before completion of the work.






Since the LCD lamp was not lit on switch on, I checked and found it was open. So replaced it with a white LED placing it properly. I also peeled the reflection sticker from the sides of the LCD glass, as this LED was not seating properly beneath, and it had to be fixed on the side only. Replaced the current limiting resistor to suit the LED, by trial and error method to make the LED bright enough but not more. 220 Ohms, half watt was finally found ok. Fixed the LED in proper position and covered the sides with black tape. Replaced all the press to on switches, as these were defective.




Connected all the PCBs with each other and applied power. Connected speakers of my Multimedia system and checked and found that the set was working perfectly well! No other components were replaced in this system, as all were found to be ok on checking.

Here are a couple pictures more, after I assembled the set back and tried:

I recorded a couple of videos and sent these to the customer through Whatsapps.
Another job satisfactorily added to its bag!

This article was prepared for you by Parasuraman Subramanian from India. He is 69 years old and has more than 30 years' experience in handling antique equipment like Valve Radio, Amps, Reel Tape Recorders and currently studying latest tech-classes conducted by Kerala State Electronics Technicians' Association. He has done graduation in BBA degree, private diploma in Radio Engineering and retired as MD of a USA company. Presently working as Consultant to Hospital and other institutions.
Please give a support by clicking  on the social buttons below. Your feedback on the post is welcome. Please leave it in the comments.
P.S-If you enjoyed reading this, click here to subscribe to my blog (free subscription). That way, you'll never miss a post. You can also forward this website link to your friends and colleagues-thanks!
You may check on his previous repair article below:
https://jestineyong.com/crt-rejuvenation-in-lg-crt-tv-flatron-plus/
Likes
(

61

)
Dislikes
(

0

)