CITIZEN Micro Wave Oven Repaired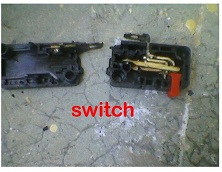 Last Sunday afternoon the owner of the Romantic Restaurant "San Severino" came to me with a CITIZEN Micro Wave Oven Model No. JM5598K and the complaint was it did not start when its door was closed by the cook.

I told him it was not my line of repair but he insisted. He said today is Sunday and all the workshops already closed. Because of this I had to take a look at the oven.
Some screws were removed. I began checking on the three switches which were connected at the door.

When the upper switch was removed look what I saw.

The plastic was deformed due to an overheating produced by the connector of the cable which was rather loose. When it was tested with Digital Multitester it had no continuity. I had to disassemble it.

The internal contacts were cleaned up with sand paper and accommodated in their position. It was checked again with the Digital Multimeter and everything was fine.
The switch was installed in its original position and when the oven was turned On and tested everything came back to normality, in other words: equipment came back to life.
Anyway I told him that the switch had to be replaced. It was just a temporarily fixed.

This article was prepared for you by Humberto Rodriguez, one of our 'Master Authors' from Cuba.
Please give a support by clicking  on the social buttons below. Your feedback on the post is welcome. Please leave it in the comments.
P.S- Do you know of any your friends who would benefit from this content that you are reading now? If so, forward this website to your friends or you can invite your friends to subscribe to my newsletter for free in this Link.
Likes
(

27

)
Dislikes
(

0

)