COMPAQ CPU Motherboard Repaired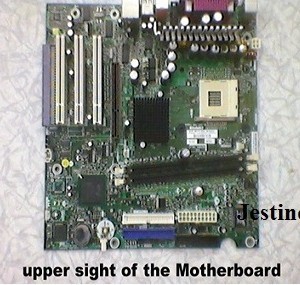 A CPU with Motherboard COMPAQ EVO D510 CMT was brought to me from a co-worker because the Operating System was working unstable and it was restarting most of the time. I realized that two main reasons could be causing this faulty:
The Operating System.
A hardware trouble.
First of all I did a quick check at simple sight, and then I decided to open the chassis up to look if there was any bad/burnt component, bulged electrolytic capacitor, circuitry damage, etc. When I saw inside there were eleven bulged electrolytic capacitors (2200µF/6.3v) so they had to be replaced anyway to save the Motherboard.

Obviously, the eleven e-caps had to be substituted with similar ones.

It was a little difficult to change that amount of capacitors, but it was not anything impossible at all.
When job was concluded, a SMPS was connected to Motherboard such as a keyboard, a mouse and Monitor on the workbench. The SMPS was switched-ON and there was display.

Then the Motherboard was inserted into the chassis and all connections were done, and I felt very happy for my co-worker because the Operating System has been working perfectly since that day.

This article was prepared for you by Mr Humberto Rodriguez from Cuba.
Please give a support by clicking  on the social buttons below. Your feedback on the post is welcome. Please leave it in the comments.
By the way if you have any good repair article that you want me to publish in this blog please do contact me HERE.
Likes

(49)
Dislikes

(1)
Likes
(

2

)
Dislikes
(

0

)