DELL SMPS And PC Repaired-Part 1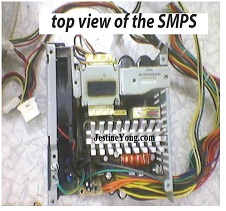 A DELL Switch Mode Power Supply (SMPS) was brought to me and the complaint was the PC can't be turned On.

This DELL SMPS Model HP-P2507F3CP Rev: H01 had the following features:
AC Input (50 – 60Hz): 100 – 127 volts/6A.
200 – 240 volts/3A.
+ 3.3 volts/18A
+ 12 volts/14A
– 12 volts/1A
+ 5 volts (FP)/2A
Max. Output Power: 250 watts
+ 5 volts & + 3.3 volts shall not exceed 150 watts
When the +5 volts of Power On and Standby were measured with the Digital Multimeter, they were absent, so the SMPS needed to be disassembled for checking. About seven screws were removed and this is what I saw:

First thing done was to check on the e-caps of the secondary side with my Blue ESR Tester, so far everything was really good until I found one e-cap marked C302 (1000μF/10v) in the feedback circuit near to the Optoisolator IC had high ESR ohm (1 Ohm). Please look at photo below.


A good 1000uf 10 volt should have about 0.1 ESR ohm.
Next step was to look for replacement. Since I can't find the 1000uf 10 volt cap in my parts compartment I used 1000uf 16 volt as replacement.
Note: I highly recommend you to buy a Blue ESR Tester, it is an useful tool and you will not waste too much time in checking on the e-caps. Remember, investment pays itself back

The new e-cap was re-soldered into the circuit, the SMPS was assembled and checked on with an external Hard Disk Drive (HDD) and a chassis fan (I used them as load) and it really worked perfectly.

When the SMPS was connected into the Motherboard, it worked perfectly good.


 Now appeared another trouble rather complicated too, but this one will be treated in the second part of this article, so if you are interested in what happened later and what solution was taken to solved the new trouble of this story, see you in the second part.
To be continued…

This article was prepared for you by Humberto Rodriguez, one of our 'Master Authors' from Cuba.
Please give a support by clicking  on the social buttons below. Your feedback on the post is welcome. Please leave it in the comments.
P.S- Do you know of any your friends who would benefit from this content that you are reading now? If so, forward this website to your friends or you can invite your friends to subscribe to my newsletter for free in this Link.
Likes

(162)
Dislikes

(1)
Likes
(

5

)
Dislikes
(

0

)