Introduction to 8051 Microcontroller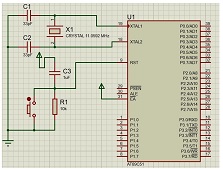 With the increase of technology, we are familiar with computer, mobiles and other technology products that are playing important roles in our daily life. All these technology products have some common components e.g Processor, ROM (Read Only Memory), RAM (Random Access Memory). By contributing all these basic components an automatic system comes into existence that are used to work without the interference of human.
In basic of controllers most common and famous question is the difference between Microprocessor and Microcontroller.
Microprocessor: Microprocessor is the integrated chip based on logics. It done the functions e.g Arithmetic Logics, Digital Logics etc. But to get complete these logics it needs ROM to where from it can access the data to process and RAM to store temporary logic that are being used for a running process.

Microcontroller: Microcontroller is the chip that have built in Processor, ROM and RAM. All these three components are embedded into single chip.

In this article we are going to discuss 8051 family microcontrollers. Microcontrollers of this family has broad range of applications in technology and its he basic need to study 8051 family microcontrollers their programming and interfacing for starting with microcontrollers.
Actually 8051 is the subset of 8052 family. 8051 microcontrollers have half specifications than 8052 microcontrollers. Here is the comparison table of these families.

At the beginning time we only need to compare the 3 basic features that are ROM, RAM and input/output ports. Since all have same ports so only remains 2 options. 8052 have double RAM and ROM compared to 8051 but 8051 are most common due to their cheap price. But the programming and interfacing of all of these is same. With the increase of ROM and RAM the processing time and storage of code size is increased.
Lets have a look on 8051 microcontroller:


As in 8051 there are 32 input/output pins. These pins are divided into ports. There are total 4 ports every port has 8 pins. VCC will connected to +5 volts and GND connected to ground.
RST (Reset) pin is used to reset the microcontroller but there need to make a reset circuitry that is show in figure bellow. XTAL1 and XTAL2 are used to connect crystal that provide the frequency to the controller. -EA/VPP pin will be connected to +5 volts.

To work properly this circuitry and the connection of +VCC and GND are necessary.
To be continued……….

This article was prepared for you by Hafiz Abdul Haseeb Tariq from FAST-National University of Computer and Emerging Sciences-Pakistan. He's an Electronics & Embedded system engineer and has practical experience in circuit designing, networking, assembling, PCB making, 8051 & Arduino programming.
Please give a support by clicking on the social buttons below. Your feedback on the post is welcome. Please leave it in the comments.
P.S- If you enjoyed reading this, click here to subscribe to my blog (free subscription). That way, you'll never miss a post. You can also forward this website link to your friends and colleagues-thanks!
Likes
(

83

)
Dislikes
(

0

)