LCD TV and LCD Monitor Shutdown Problem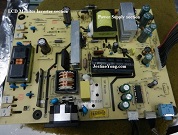 I have Samsung lcd tv Model No: P2470HD First tv works for 20 minutes then picture disappears but sound ok. Turn off the set and again turn on the set then works fine.but again picture disappear 10 minutes,then 2 minutes finally it was 1 second. I replace all the capacitors in secondary side of the SMPS . What should I do sir?
A typical example in the below picture of an LCD Monitor Power Supply/Inverter Board

Answer:
The common solutions for any LCD TV/Monitor are:
1) Unstable power supply output voltage due to bad filter caps. The caps can be bulged or have high ESR value.
2) One of the high voltage transformers is bad. The secondary winding can go shorted, increase in resistance, open circuit or breakdown when under load. Sometimes you could see a small arc in between the transformer secondary winding. Once the arc happened the equipment will immediately shutdown.
3) Bad ballast capacitors- The problem with the ballast capacitor is the capacitance value run and breaking down under load. This is quite rare and it can happen.
4) One of the backlights have problem. The chances for bad backlight is very high as compare to the first top 3. You can use a good backlight for comparison or use a backlight tester to find out the fault.
5) Bad Inverter IC- If the inverter IC itself have problem then it will shutdown. It is not common to see bad Inverter IC.
6) Bad surrounding/corresponding components. If one of the components have problem in the inverter or backlight feedback circuit, the LCD TV or LCD Monitor display will shutdown.
If you wish to know more about LCD TV/Monitor repair then I suggest that you check out the LCD resources HERE.
Likes
(

16

)
Dislikes
(

1

)