LED Light Blinking in 40″ Samsung LCD TV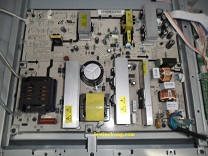 A customer brought in this Samsung 40″ LCD TV for repair with the complaint of front power LED was blinking. The LED blinking usually can be caused by several factors but the most common one is the power supply fault and the next cause was the data corrupted in either the MCU IC, EEprom or the Flash Rom (memory ICs). The LED signal is coming from the MCU IC thus if the DC supply to this IC is improper (faulty power supply) or the IC itself memory is corrupted, the power LED light will blink.
I opened the TV cover and saw four circuit boards. They were the power supply, inverter, Mainboard and T-con board-see the photos below:



One more symptom of this TV was the relay clicking on/off intermittently. Below is the photo of the relay:

Usually I will observe the symptom first then by using sight to do the visual inspection on all the circuit boards. It was very obvious the fault was at the power supply section because I saw quite  number of filter capacitors were bulged. Their functions are to filter the AC ripple and to store current.
Obviously a bulged filter cap would not be able to store enough current but at the same time the current was  still being drawn by the mainboard. A lack of current supplied to the mainboard can cause the DC volt  to drop thus affecting the whole function of the mainboard. And this is why the power LED blinks (MCU IC did not get enough of DC supply voltage).


Replacement of 7 filter capacitors solved the power LED blinking problem-see the photos below:


Conclusion- Assuming if all the filter caps were good then I may have to suspect the memory ICs. If you wish to learn how to check components like a professional you can get Jestine's ebook HERE. If you wish to have ideas about  troubleshooting and repairing LCD/LED TVs, you can check out Kent's ebook and also Damon's ebook.  Ok, will be seeing you again in the next article.

This article was prepared for you by Suranga Bandara who owns an Electronics repair shop in Anuradapura, Sri Lanka.
Please give a support by clicking on the social buttons below. Your feedback on the post is welcome. Please leave it in the comments. If you have electronic repair articles to share with us, please contact us HERE.
P.S-  If you enjoyed reading the above article, click here to subscribe to my blog (free subscription). That way, you'll never miss a post. You can also forward this website link to your friends and colleagues-thanks!
Note: You may check out his previous post in the below links:
https://jestineyong.com/blinking-stand-by-led-light-in-led-tv-repaired/
Likes
(

97

)
Dislikes
(

0

)