No loading of PC OS solved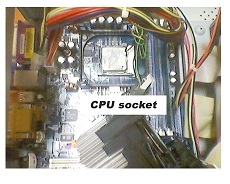 A fellow-worker called me very desperate today in the morning because his PC was not loading the Operating System (OS). When I looked at the PC screen this is what I saw:

When the PC was turned-on, it passed the POST test.
After that the next  screen would just stopped and hanged. The OS can't load. His Motherboard was an ASRock P4i45GV.

The chassis cover was removed and the two RAM modules were extracted for cleaning them up with a Pencil Eraser.

The modules were inserted again, but this did not solve the problem, no loading of the OS yet.
Next step was to extract the fan and heat sink of the Microprocessor.

What a surprise! I discovered that one of the four retention hooks was loosen into the retention hole, then it was re-inserted. When the PC was switched-on again, the OS loaded perfectly.


This article was prepared for you by Humberto Rodriguez, one of our 'Master Authors' from Cuba.
Please give a support by clicking  on the social buttons below. Your feedback on the post is welcome. Please leave it in the comments.
P.S- Do you know of any your friends who would benefit from this content that you are reading now? If so, forward this website to your friends or you can invite your friends to subscribe to my newsletter for free in this Link.
Likes

(28)
Dislikes

(1)

Likes
(

4

)
Dislikes
(

0

)