Nvidia Graphic Card Repaired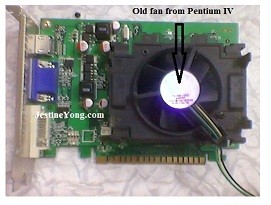 A Graphic Card (NVidia GeForce GT 630) was brought to me because it was overheating due to the malfunction of its own fan.
Because of the overheating, the PC was decreasing its performance and the Operating System was hanging continuously even reset the computer also would not help. It hangs even faster when running on gaming software.


The features of this card are shown in the photos below:

The fan could not rotate and rigid and I have to remove it.

I found that there was no way to lubricate the fan:

In this condition the fan had to be replaced with a new one. Since I do not have a new fan I used the microprocessor Pentium IV fan.
The repaired Graphic Card was slotted to the PCI XPress x16 slot in the Motherboard and found to be working perfectly fine.

This article was prepared for you by Mr Humberto Rodriguez from Cuba.
Please give a support by clicking  on the social buttons below. Your feedback on the post is welcome. Please leave it in the comments.
By the way if you have any good repair article that you want me to publish in this blog please do contact me HERE.
Likes

(21)
Dislikes

(0)
Likes
(

3

)
Dislikes
(

0

)