Partial Restoration Of Philips Three-In-One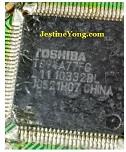 The model number of this set is Philips AZ1047/94 and this is a three-in-one set, i.e, CD-Radio-Tape Player. The set was brought to me with the complaint that CD was not working, there was a lot of noise in Radio and tape was not working.
On visual inspection, I could find a crack on the cabinet indicating a fall, and on opening the set, I could make out that the set was not opened for many years. Dirt and cob-web had got collected inside the set.

After thorough cleaning using Blower and brushes, I dismantled the set completely. I also cleaned the inside with cloth, wherever it was possible. While dismantling, I noticed that the damage had mainly affected the tape mechanism side, and the motor had come out loose. A couple of lugs were broken.

Patched-up dry solder points, lubricated the connectors and assembled the PCBs outside, feeding its own power supply. The noise due to unclean volume control was solved. But while playing the Tape Recorder, there indeed was a noise, which was traced to a couple of SMD capacitors on the recording path, using isolation method. That means, cutting the track, by removing jumper wires going to it. I could conclude it was from the recording wire, only by removing the wires other than the power supply, one by one from the connector and playing.
This is an easy short-cut method to isolate problems in a board. But the noise continued even after replacing the SMD caps. Then I knew that it has got something to do with the recording switch. Though I cleaned it thoroughly, using WD40 and pressing it in and out several times, this problem could not be solved. After verifying with the customer, who said that he never used Recording on tape and that can be disabled, I slid out the wire from its connector and the noise was missing. But there was no problem in playing at all.


After ensuring that the Tape was working very well, I turned my attention to Radio side. Did lubrication of connector. Found that it was working very well.
Then took up the CD part. This was difficult, as the flexible strip connecting the Eye unit to main PCB was too short. So, after using a bit long strip, I turned it on and noticed that CD was playing, but no audio output was coming. Though I tried to get the datasheet of the IC used in it, I could not succeed. I looked for any dry solder, bad components etc. I even reflowed the IC. I also used my Oscilloscope to check whether the audio was coming out from the IC, in the portions, where the digital output was connected to analogue output of the audio. It was missing. It was more or less a complaint within the IC itself, even though it was not getting hot. Here you can have look at this:

Since the number was not clear enough, I even tried different possible combinations, but in vain.
Once again, referred to the customer, who said he was happy if the set was working in Radio and Tape and he had another good CD player and he never used this. As he himself was not very keen in getting the CD portion restored, and replacement IC was not available, and more importantly, I also was hesitant in replacing this IC due to lack of such experience, I dropped it. So, reassembled the set. Fixed a new Antenna in place of only the stub of the old one. Set was working very well.

Thus this was added to my completed list, but not to the satisfaction list!

This article was prepared for you by Parasuraman Subramanian from India. He is 70 years old and has more than 30 years' experience in handling antique equipment like Valve Radio, Amps, Reel Tape Recorders and currently studying latest tech-classes conducted by Kerala State Electronics Technicians' Association. He has done graduation in BBA degree, private diploma in Radio Engineering and retired as MD of a USA company. Presently working as Consultant to Hospital and other institutions.
Please give a support by clicking on the social buttons below. Your feedback on the post is welcome. Please leave it in the comments.
P.S-If you enjoyed reading this, click here to subscribe to my blog (free subscription). That way, you'll never miss a post. You can also forward this website link to your friends and colleagues-thanks!
You may check on his previous repair article below: https://jestineyong.com/revisit-of-jinxed-amp-with-torroid-transformer-failure/
Likes
(

55

)
Dislikes
(

0

)