Revisit Of Jinxed AMP With Torroid Transformer Failure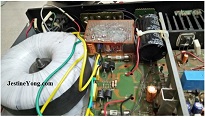 Those of you who have missed the story behind this Audiosource Amp One, please read it using this link: https://jestineyong.com/servicing-audiosource-amplifier/
Well, as this Transformer failed again at the customer's place, he brought it back with a sad face to my dismay! (I visualized one 'satisfaction grain' jumping out of the collection bag!)
Opened the set and found the primary was open! Gave it back to my friend, who had done the rewinding last time. You won't believe me if I tell you that more or less same calamities, one after the other continued at his end and it was stuck with him for almost 8 months this time! Finally I got it back and this time as he told me to connect a 100W bulb as a load and just allow it to run for one day fully, which I did. He also asked me to add a protective delay circuit, schematic of which is given below. I used a 12V relay and tapped power from Amps' secondary. The circuit was assembled on a Vero Board. I housed the board in the gap that was available between the TX and main board.



The idea was to provide a few seconds pause, before the full voltage of the secondary is pumped into the circuit, allowing the transformer to get charged, before large startup current is drawn. This protection was added, as almost all the time, the TX has failed on switch on!
I used the set continuously for several hours and days, with switch off and on. It worked fine and so, returned it to the customer, who reported that he was afraid to use the set for fear of another failure, but on my reassurance, he started using the set. Hope everything will be fine and let us keep our fingers crossed!
So, I put the 'satisfaction grain' on hold from jumping back into the bag!

This article was prepared for you by Parasuraman Subramanian from India. He is 70 years old and has more than 30 years' experience in handling antique equipment like Valve Radio, Amps, Reel Tape Recorders and currently studying latest tech-classes conducted by Kerala State Electronics Technicians' Association. He has done graduation in BBA degree, private diploma in Radio Engineering and retired as MD of a USA company. Presently working as Consultant to Hospital and other institutions.
Please give a support by clicking on the social buttons below. Your feedback on the post is welcome. Please leave it in the comments.
P.S-If you enjoyed reading this, click here to subscribe to my blog (free subscription). That way, you'll never miss a post. You can also forward this website link to your friends and colleagues-thanks!
You may check on his previous repair article below:
https://jestineyong.com/restoring-a-crt-tv-with-philips-china-kit/
Likes
(

62

)
Dislikes
(

0

)