PS4 With Strange Symptoms Repaired.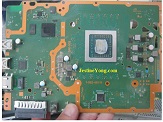 A friend of mine brought his PS4 for repair. While the customer in the shop, I powered on the device to see what kind of issue I am dealing with here. The customer explained but I want to see the problem with my own eyes.

As the PS powers on, I could see the blue light changes to white which is a good sign but I get a message on TV that the PS is re starting for some reason and then it gets stuck on blue light and it does not change to white and that is a serious issue.
As the PS4 powers on, it does a certain search in the system to make sure all is well. If everything ok, the blue light will change to white and that is an indication of a good PS4. In my case it started that way then it got stuck on blue light which is an indication of overheating, bad hard drive or bad data on the hard drive itself.

As I took it part I could see that the board is very dirty and dusty. I cleaned everything on that board including adding new fresh thermal paste on the main chip.
I put everything back together and tested the machine and the issue did not change.
Since the cleaning did not change the situation, I decided to go into safe mode on that PS4. This is done while the PS4 is off, press on the power button once you will hear a peep and keep pressing it till you hear the second peep and that will take you to a safe mode menu.
It seems like the operation system is corrupt on that hard drive and the only way to bring this PS4 back to life is by re initializing the hard drive and the result of that is losing everything on it.
I had to call the customer and confirm that with him. I explained that once the PS4 is up and running he can sign in to his account and restore everything on his hard drive by downloading all the information there. He agreed and based on that I started the re initializing process on that hard drive.
I went to the play station web site and down loaded all the information on a USB flash drive. There is a lot of information about that on the web site with instruction that is so easy to follow.

While still in the safe mode, I started the process and in less than 10 minutes I was able to get this PS4 up and running.


When inserting the USB stick to one of the USB port on the PS4 just follow instruction and everything will be ok.

This was the outcome of the process and it was done successfully. The PS4 is up and running. After all the data installed everything on this PS4 will be in Default setting just like when you buy off the shelf and do the set up.
The customer was happy that his PS4 is back from the dead. I explained to him how to down load all the information back to his hard drive. He called later on to thank me again for this and that everything is back to normal.
Mission accomplished.

This article was prepared for you by Waleed Rishmawi, one of our 'Master Authors' and currently working in the Bethlehem area of Palestine repairing electrical and electronic equipment.
P.S- Do you know of any your friends who would benefit from this content that you are reading now? If so, forward this website to your friends or you can invite your friends to subscribe to my newsletter for free in this Link.
Note: You can check his previous repair articles in the link below:
https://jestineyong.com/a-laptop-with-overheating-issued-repaired-model-dell-studio/
Likes
(

73

)
Dislikes
(

0

)