A Laptop With Overheating Issued Repaired. Model: Dell Studio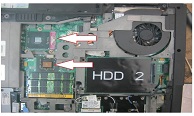 This laptop is actually mine and recently I noticed it is doing a lot of shutting down. The fan on it most of the time is on and from experience I facing another issue of overheating.

As I took the cover off and exposed what is inside this device, I noticed right away the heat sink that is covering two main chips
and I was very positive that one of them is getting overheated due to the dryness of the thermal paste.


That is the heat sink that goes over the main chip and as you can see it was really dry and needed cleaning and new fresh thermal paste to be added on.

It was so dry that I had to scratch the dry thermal paste off. The other IC was ok since it has this rubbery cooling thermal pad already installed.
I added fresh thermal paste to the main chip and re installed the heating sink on top and restarted the laptop.

Since this repair was done everything was running smoothly, no shut down and no restart of the laptop. I am actually using this laptop for work and the writing of the articles.
It is kind of old laptop and so far so good but looking forward to getting a new one or better one in the near future.
Mission accomplished.

This article was prepared for you by Waleed Rishmawi, one of our 'Master Authors' and currently working in the Bethlehem area of Palestine repairing electrical and electronic equipment.
P.S- Do you know of any your friends who would benefit from this content that you are reading now? If so, forward this website to your friends or you can invite your friends to subscribe to my newsletter for free in this Link.
Note: You can check his previous repair articles in the link below:
https://jestineyong.com/ac-remote-control-with-bad-display-repaired/
Likes
(

74

)
Dislikes
(

0

)