Review Of ATX Power Supply Tester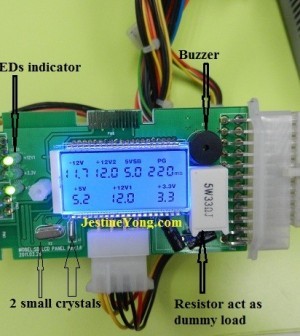 If you have read my February 2013 Repair Newsletter I did mentioned I wanted to get a good ATX power supply tester. Below is the link of the article if you have not read it yet:
http://www.electronicrepairguide.com/atx-power-supply-repair-guide.html
There is no doubt that many repairers no longer repair ATX power supplies due to the cost that is very cheap nowadays. If you read the conclusion of the article it says:
"I knew that many of us no longer repair cheap and throw away electronic equipment. We are sort of like been programmed to only repair equipment that can only bring big bucks. But seeing dead equipment that can be brought back to life is a joy and is one of the whole purposes being an electronic repairer. "Once in a while we should just remove the money sign $$$ from our mind so that we can go back to the basics of electronic repair which is fun, satisfying and fulfilling".
Yes- fun, satisfying and fulfilling are the main reason why I bought this power supply tester. I just wanted to bring the dead ATX power supplies back to life again.
Power supply testers already in the market for quite some time and those old testers do not have the LCD screens and they are mainly LEDs indicator to indicates if the voltages presence or not. The new generation ATX power supplies tester comes with large LCD screen and it provides voltage readout for the 12V, -12V, 5V, 5V standby, 3.3V, and power good (PG) signal (in ms).
Here are the photos of the ATX power supply tester.








Advantages
1)    This power supply tester can support the old and the new type of ATX power supplies in the market (ATX, BTX, ITX Compliant)
2)    Small in size, light weight and can be kept in your toolbox
3)    The built in buzzer will sound if it detects abnormal voltage or slight flicker in the Power Good signal. (For your information the Power Good signal has to be steady and the readout should be in between 100ms to 500ms depending on the type of power supplies you are testing).
4)    Always test the voltages of the ATX power supplies first before connecting it to the motherboard. The reason for it is not to destroy the motherboard due to high voltage. In other words your good motherboard is not at risk.
5)    You don't need to put a jumper wire at the power supply connector to turn it on. Just connect the power supply to the tester and it will be turned on (assuming if the power supply under test is under working condition)
6)    Aluminum casing thus it is more robust than the plastic type of power supply tester.
7)    Clear readout from the big LCD screen. Any abnormal or changes in the voltage can be easily seen.
8)    Cheap price and repairers can afford it. You can search from Ebay.com and it cost about USD15.00 excluding shipping charge.
9)    It can detect intermittent problem in power supplies. Just let it run for an hour or two (or you can knock on the power supply with the handle of the screw driver while it is running) and if you could hear the sound from the buzzer, this means the tester already detected a problem. You could see the LCD screen for the result. The result could be a too low or too high the voltage or even a slight change in the Power good signal could be detected.
Note: A bad Power Good Signal could cause the system to reset or have no display symptom.
Disadvantages
1)    This power supply tester is designed only for power supply output tests. Do not leave it connected to the power supply unattended for too long because it generates heat and could possibly damage the power supply tester itself or the power supply under test.
2)    It can't be used to test other type of power supplies in the market other than the ATX type of power supplies.
3)    You may use less of this power supply tester unless if your job did include the ATX power supplies repair.
Check out the video below:
Special notice: I do not endorse that you should use this power supply tester nor I'm affiliated with any of the ebay seller. This is just a review based on my own opinion. If you think that you want to buy this tester, then you have to take your own responsibility. Just visit Ebay.com and key in power supply tester. You will see many types of power supply tester. If you need any info about the power supply tester you need to sign up at Ebay.com and from there you can contact the seller for alternative payment and mode of shipping.
If you have any question about this post please feel free to comment. You may click on the social media button below if you like this post- thanks.
Jestine Yong
Likes
(

20

)
Dislikes
(

0

)