Servicing Romai Power Bank 10400mAh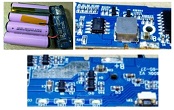 My mobile Power Bank, another Chinese make, which is only about 2 years old, started giving troubles.  It does not take load sometimes and charging LED goes off on its own even though mobile is not fully charged.  So, I opened this power bank for the first time, being my first power bank service.
The two covers at the top and bottom will have to be pried open, as these are stuck with gum. Then we can see a black cover with fitting screws on one side. Then we need to push the battery to take out the control board along with the battery.

Here are the pictures of the board.  The 14 pin Li-ION battery charge control IC (output) is obliterated, so I have no idea what is the IC number!  A cheap way for a manufacturer to do, to avoid copying their circuit! The Positive supply is coming to Pin 9 and ground goes to pins 10 and 14. I tried combing the web for a similar 14 Pin IC, giving various combinations for search, with no useful result.  (If any of you know the IC number, please do let me know. There is a possibility that the number is there on the bottom of the IC. But I do not want to remove the IC just for this sake.)


There is a temperature sensor connected to the battery:

The DC-DC Converter IC number is FP6276, and here is the link for its datasheet, http://www.datasheetframe.com/PDF/FP6276-PDF/1096691
Now, for the observations and remedial actions taken (at last)!
I observed that the input from battery as well as the output to mobile connector were quite normal. I checked the push to on switch and it was also ok. There was no dirt collection, as the unit was completely sealed. Could not find any fungus or other corrosions. So, just retouched all the solder joints. Cleaned and lubricated the USB socket and mobile connecting socket. That is all what I did for servicing this unit. Connected my mobile and left for charging, before closing the covers of the Power Bank. It was charging well, and no auto off problems was also noticed. So, 'reversed' the opening process. Since the top and bottom covers have sticky gum on it, it got fastened by itself and there was no need for me to apply Fevibond.
Thus completed the service, the missing IC number still gnawing my heart!

This article was prepared for you by Parasuraman Subramanian from India. He is 68 years old and has more than 30 years' experience in handling antique equipment like Valve Radio, Amps, Reel Tape Recorders and currently studying latest tech-classes conducted by Kerala State Electronics Technicians' Association. He has done graduation in BBA degree, private diploma in Radio Engineering and retired as MD of a USA company. Presently working as Consultant to Hospital and other institutions.
Please give a support by clicking  on the social buttons below. Your feedback on the post is welcome. Please leave it in the comments.
P.S-If you enjoyed reading this, click here to subscribe to my blog (free subscription). That way, you'll never miss a post. You can also forward this website link to your friends and colleagues-thanks!
You may check on his previous repair article below:
https://jestineyong.com/servicing-fast-track-torch-and-rebuilding-broken-adapter/
Likes
(

83

)
Dislikes
(

0

)