Voltage Testing Points Of Mobile Charger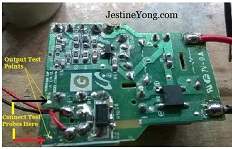 Today's topic is about voltage test points (TP) in Mobile Phone Charger. The below pictures are the marking of the components:


First connect the charger to the Main AC Voltage. Make sure the AC voltage is coming out from an Isolation Transformer.
After that select AC voltage range in Multimeter and place the meter probes onto AC input points on Bridge Rectifier as shown in the below picture.

If you have an Oscilloscope you can use it to check the IC output pin or Transistor Collector /Drain pin.

If you are using a normal Oscilloscope, make sure it is connected to an Isolation Transformer otherwise it may trip the whole floor. In my case I used handheld battery operated Oscilloscope. As you can see in above picture the Oscilloscope was showing PWM signals waveforms so it means that the Power IC generates proper waveform and its working. Your next test point should be secondary side output pins as seen in below picture.

You should get output 5VDC when you connect your meter test probes on above mentioned test points. If you did not get the output voltage it means there could be problem and you need to troubleshoot the circuit.
Conclusion- Every electronics circuit board must have test points and you need to locate these points to help isolate the fault fast. In the beginning you may need schematic diagram to assist in finding the test points. Once you have grasp hold on this technique you can automatically locate test points in any circuit board in very less time thus it will speed up your troubleshooting work.
This article was prepared for you by Owais Akhter from Muscat Oman.
Please give a support by clicking  on the social buttons below. Your feedback on the post is welcome. Please leave it in the comments. By the way if you have any good repair article that you want me to publish in this blog please do contact me HERE.
Likes
(

228

)
Dislikes
(

0

)