Blomberg 19" LCD screen TV/ Monitor with intermittent shut downs, repaired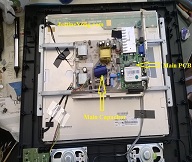 A friend of mine who owns this TV set asked me to take a look on it as the set was shutting down its function while being in normal operation and this was happening irregularly. The set's front view is shown below.

I took it home, installed it in a place and put it in operation. To my surprise the set was functioning normally for more than one week and I thought that my friend had a problem in his electrical installation at the power receptacle. Nevertheless I hesitated to call him at that time and preferred to wait for some more days.
Well, after one more day the set started to shut down repeatedly and irregularly. The problem was already there. I opened the set removing its back cover. This below is its internal view.

I had repaired this set once again two years ago. The set had blown the input fuse and the input smoothing capacitor, right after the line rectification, due to a power line  overvoltage. In a strange way, all rectifier diodes were intact at that time. The capacitor I replaced is the big blue colored one, attached horizontally to the power supply PCB. At the right side of the power supply, is the main PCB.
Below you can see (limited) information about this set.

I started troubleshooting with the verification of the various voltages around the set and found them all right. I was then oriented towards the system control IC. It was not possible for me to find relevant information for it in the web.
Anyway, I found a similar IC and I guess that both of them are produced from the same company. The type of the one I found was MST 776-1 while the one I searched for had more and different digits after the first 77. Unfortunately I didn't take a photo before the repair so that you could see this I.C now. The photos you see were taken when I finished with it.
I suspected that something is wrong with this I.C, but I could not prove it taking measurements as usually, due to the lack of any information. Then I applied the "finger-as-thermometer" test on it. Well, fortunately I reacted instantly removing my finger from it avoiding a serious scald. This IC although working perfectly, it was doing so under marginally overheating conditions.
I turned the set off waiting for it to cool down. Right afterwards I turned it on again and put on the upper surface of this IC a K type thermocouple connected to an ordinary multimeter switched to thermometer function. Its indication jumped to 72 degrees Celsius within two minutes of operation (!!) and stabilized there.
I realized that the IC shuts down due to activation of an overheating protection circuit, but still I couldn't figure out how to overcome this problem. Finally I used a heatsink from a salvaged ATX PSU and I attached it onto the upper surface of that IC having previously applied an aluminum based thermally conductive compound on it.
For doing this, I had beforehand to remove two small electrolytic caps from the upper components' side and solder them on the solder side of the main board in order to have all the upper space available for the heatsink attachment.
You can see the heatsink in the photo below. The processor is underneath, at the right side of the cable connector shown, almost at the middle of the PCB. I attached it using  three tinned copper wire retainers soldered directly on the chassis around it.

Now if you ask me why this IC overheats so much or if this problem revealed itself after the previous failure or if it was there from the very first moment of the operation of the set not being observed, I really cannot give you a reliable answer.
The important thing is that for more than six months since I returned the set to my friend, including the very hot summer months, I have no "negative feedback" from him and therefore I consider I resolved the problem mechanically, hopefully for a long time to come!

This article was prepared for you by Paris Azis from Athens-Greece. He is 59 years old and has more than 30 years' experience in electronics repairs, both in consumer and industrial electronics. He started as a hobbyist at the age of 12 years and ended his professional carrier as a senior electronics technician.  He has been a specialist in the entire range of consumer electronics repairs (: valve radio and BW TV receivers, transistorized color CRT TV, audio amps, reel and cassette tape recorders, telephone answering and telefax devices, electric irons, MW cooking devices e.t.c) working in his early stages at the official service departments of National-Panasonic first and JVC afterwards, at their premises in Athens.
Then he joined the telecoms industry, working for 20 years as field supporting technician in the sector of DMRs (: Digital Microwave Radio transmission stations), ending his carrier with this subject. Now he is a hobbyist again!
Please give a support by clicking  on the social buttons below. Your feedback on the post is welcome. Please leave it in the comments.
P.S-  If you enjoyed reading this, click here to subscribe to my blog (free subscription). That way, you'll never miss a post. You can also forward this website link to your friends and colleagues-thanks!
Note: You can check out his previous repair article below:
https://www.jestineyong.com/paco-der-2000-automatic-voltage-regulator-repair/
Likes
(

115

)
Dislikes
(

0

)