Dead SONY KLV-40R472A LCD TV Traced To Faulty PFC Adapter And Brought Back To Life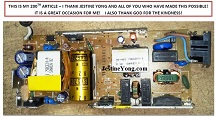 MAKE AND MODEL NO: Sony LCD TV model KLV-40R472A
COMPLAINT REPORTED: Now dead. Sometimes it gets on and sometime it does not.
HISTORY: This TV belonged to a person living a few houses away, in the same street where I live. He is known to me for many years and also is a member of our Residential Association. Since there is containment due to Corona, he knocked at my gate, which was always kept locked, and checked whether he could bring his TV as it was found dead. Due to movement restrictions, TV/Audio Systems/Mobile are the only entertainments available to the residents. So, I told him to bring the Adapter first instead of the TV, as I learnt from him that the TV worked from it. Collected from the gate itself when he brought it, sprayed sanitizer on it and left it at the Car Porch for a few hours before bringing it in. I also cleaned my hands using soap as per protocol prescribed to keep ourselves safe. I was also wearing the mask and maintained distance while receiving the adapter.
TROUBLE SHOOTING, RECTIFICATION AND TESTING DONE: The cover of the adapter is glued together and there are no screws to be opened, perhaps to make it as economical as possible. So, I used my pen knife to make an incision on one corner and pried it open, without causing much damage to the edges. After removing the two half thin metal covers, one side of which is screwed and another soldered to the Earth point of three pin AC input, removed the mica cover to view the inside. There were no bulgy capacitors or burnt components. This is a PFC Adapter; probably because of the higher watt consumption of the TV (it is rated 76W), as per regulations prescribed by the National Grid Authority of India. Applied power and checked the output. It was showing correct output. So, I loaded a 12V/25W Automobile Bulb through a 4 ohm 20W Resistor. The output got dropped, indicating that there was something wrong in the PFC generation. I checked the voltages across the Tank capacitor in the primary, which was 82uF/570SV (SV stands for surge voltage.) It was showing less, i.e., around 360V instead of around 390 to be found, as per experts' opinions sought. So, I thought there was something wrong in the voltage building circuit. The PFC IC used was SC2005. Downloaded the datasheet, looked for any defective components around the IC and also the voltage builder IC 3S132 (data of which was not available in the web). Could see a few dry solders in the SMD components. So, retouched all the points on the Board. Removed the Tank capacitor, though the ESR was ok. It was showing 91uF instead of 82uF, which is an indication of drying out. As a Gold Capacitor of equivalent value and voltage rating was not available, opted to put 100uF/450V in its place. Replaced the other electrolytic capacitors also. Removed a few of the SMD components as well as the Mosfets for checking. Nothing was found to be defective.
So replaced these back on to the board. Powered up the Adaptor and gave the same load. This time the voltage was steady. But the PFC Voltage was remaining at 360V. So, I gave additional load of 6 nos. of 12V Torch Bulbs of 300mA each and connected my Computer Monitor too. The total load was then around 3.8A, which was more or less same like the TV. The output remained steady, though the voltage built up remaining at 360 only. So, the next option was to ask the customer to bring the TV, connect it and check. The TV was brought, which I allowed the customer to keep it in one corner. I also ensured that he did not touch anything while coming in or going out. I did the sanitizer spraying and allowed it to remain there for a day. Took it up next day. Connected the adaptor and switched on. The TV came on without any problem. I allowed it to run for several hours. Switched on and off many times, both through Remote and Mains Switch. It worked flawlessly, though the PFC Voltage still remained at 360V. Probably, that was how it should be for this Adaptor. So, disconnected and fixed the covers of the Adaptor using tape. Again I allowed it to run for several hours before I called the customer to come and pick it up. Mission accomplished, a lot of new experiences learnt and satisfaction got collected to its bag.
Here Are A Few Pictures:





This article was prepared for you by Parasuraman Subramanian from India. He is 70 years old and has more than 30 years' experience in handling antique equipment like Valve Radio, Amps, Reel Tape Recorders and currently studying latest tech-classes conducted by Kerala State Electronics Technicians' Association. He has done graduation in BBA degree, private diploma in Radio Engineering and retired as MD of a USA company. Presently working as Consultant to Hospital and other institutions.
Please give a support by clicking on the social buttons below. Your feedback on the post is welcome. Please leave it in the comments.
P.S-If you enjoyed reading this, click here to subscribe to my blog (free subscription). That way, you'll never miss a post. You can also forward this website link to your friends and colleagues-thanks!
You may check on his previous repair article below:
https://jestineyong.com/adjustable-shunt-regulator-found-defective-in-lg-fridge-inverter-board/
Likes
(

69

)
Dislikes
(

1

)