Dead Zen Micro Hifi LCD Component System solved!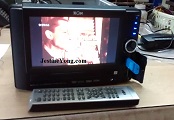 I received this Zen ZMS-7LCD Component System with the complaint that it became dead after failure of sound, while it was being played.
As usual, I opened the cover and cleaned the inside using Blower and by brushing using various brushes, suitable for each work; see picture below:

I use different types of brushes to ensure that the inside of any set that comes to me is as clean as possible. On the second picture above, (from left to right) first one is to clean small holes, hollow screw holes, especially when these are blocked by insects, second one is to clean the small crevices such as sides and middle of heat zincs, LOTs etc., third one is for gentle cleaning of sensitive boards which has very thin bare coils or such components, fourth and fifth are for tough cleaning of back covers and boards, the sixth tiny brush with cut bristles is for cleaning gaps of ics after soldering, the round blue/green brush is for board cleaning after applying spirit (I use a cotton cloth cover on the board and then use this brush on top of it, to absorb and clean the dirt and flux from the board), the next 8 brushes are for general cleaning depending on surfaces and area of reach, the long small brush next is for cleaning screw holes, the next two brushes that look like a tooth brush are metal brushes that I use to rub off solder spill overs and flux from boards, the next black brush and the old two tooth brushes are once again for cleaning the board after applying spirit.
The next white puffy type of brush is for cleaning collected dust in between fixtures in a board, and the last soft brush (a 'dwarfed' shaving brush!) is again for cleaning the boards. I use various combinations of brushes with tough, rough and smooth bristles, of various widths and lengths, depending on the structure of boards and covers and cleaning necessary. As a routine, this takes quite a lot of my time, as I hate to see dust collections on boards or inside of any sets when I am working on it.

This set uses an SMPS as its power supply. Upon switch on, I noticed that SMPS was pulsating and burning smell was coming from output diodes. So, switched it off. Discharged the tank capacitors. ESR test was ok and Blue Ring Test was also ok. Since the customer's complaint was that it went off after failure of sound, my instinct told me it could be the amp IC. So, I disconnected the power supply to the amp section by plucking out one end of a jumper wire and switched on. Bingo!  Everything else worked very well!  Here is the picture of the PCBs.



I removed the Amp IC and connected the Board, restoring the jumper wire. It worked fine! So, replaced the Amp IC TDA7265, after checking for any failed components. I replaced both the ICs, even though only one had failed, in order to ensure properly balanced sound output from same batches of ICs. We should bear in mind that when we replace ICs, if there is any pair used, it is better to change both, so that the quality will be more or less same. Moreover, some manufacturers carry out corrective modifications in the IC, based on feedback received, without changing of the IC number.

Another factor is that there will be marginal differences in quality of ICs from batch to batch, since the 'integrated components' used might vary in its tolerances. But, the manufacturers' through their inward quality checking, use components which match the criteria fixed for that batch. So, when we replace an IC from the new batch, it may not exactly match with the old one!  That is why the need arises for changing both ICs with new ones from the same batch.


The set worked very well.


Another job done to our mutual satisfaction!

This article was prepared for you by Parasuraman Subramanian from India. He is 65 years old and has more than 30 years' experience in handling antiques equipment Valve Radio, Amps, Reel Tape Recorders and currently studying latest techs classes conduct by Kerala State Electronics Technicians' Association. He was a BBA graduate, retired as MD of a USA company and presently working as Consultant Manager, Purchase & IT, in Irinjalakuda Cooperative Hospital.
Please give a support by clicking  on the social buttons below. Your feedback on the post is welcome. Please leave it in the comments.
P.S-If you enjoyed reading this, click here to subscribe to my blog (free subscription). That way, you'll never miss a post. You can also forward this website link to your friends and colleagues-thanks!
You may check on his previous repair article below:
https://www.jestineyong.com/no-play-in-technics-rs-b305-tape-deck-solved/
Likes
(

116

)
Dislikes
(

0

)