DELTA ATX 500Watt Power Supply Repaired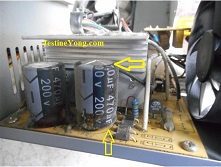 A friend of mine gave me this DELTA POWER SMPS 500 watts, but he told me it was working fine and one day it stopped working. He had already bought a new one for his PC.

I really liked one detail of this device; it has two fans: one in the bottom and other in the rear; this means a better cooling.
Of course it was opened, only four screws in the upper case.

As you can see in the photo above, it was asking for a Preventive Maintenance, but first of all it had to be repaired.First thing I saw was one of the big filter capacitors (470µF/200 volts) was bulged. Notice in the photo below it is inflated for both sides: up and down.

It was de-soldered from the PCB and I wished to see with my Blue ESR Meter the ESR's value to experiment and it was a little high. The other one was checked as good.

But I had a situation here; I had not any capacitor of 470µF/200 volts to substitute the bad one. So I had to take a pair of 560µF/200 volts then, of course they were tested with the Blue ESR Meter too, the values were 0.4 and 0.6 and it means these e-caps were in good conditions.

The rest of the e-caps in the PCB were checked and all of them were ok. Some cold solder joints were re-soldered with fresh tin and a Preventive Maintenance was done with pressured air.
The SMPS was put into functioning and look at the results in the photos below. All the volt-out was correct.

Now I have a SMPS in my workshop to test any computing device I need to check.

This article was prepared for you by Humberto Rodriguez, one of our 'Master Authors' from Cuba.
Please give a support by clicking  on the social buttons below. Your feedback on the post is welcome. Please leave it in the comments.
P.S-  If you enjoyed reading this, click here to subscribe to my blog (free subscription). That way, you'll never miss a post. You can also forward this website link to your friends and colleagues-thanks!
Likes
(

131

)
Dislikes
(

1

)