How To Check The Accuracy Of Your Meters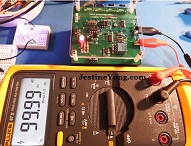 I wanted something with some verified measurement values that I could have for anytime I questioned one of my meters; or just to have for a reference. I decided to get the DMM Check Plus from voltagestandard.com. It has verified A/C & D/C volts & amps references, and 4 precision Vishay type PTF56 – 0.1% 10ppm/⁰C resistors connected in series, in 100Ω, 1K, 10K, 100K. The voltage references are 5 volts, and the amps are 1mA, for A/C & D/C.
You can see from the photo below what the actual measured values are and the equipment used to obtain them. It also has a 100Hz oscillator & duty cycle reference.

As you can see from the photos below, my new Fluke 87 is the most accurate of my meters. But my other meters were not too bad. My Peak LCR45 meter from anatek.com did pretty good. My Extech did ok, but it doesn't read D/C amps. It is more for an electrician than for electronics, which is why I bought the Fluke. My trusty Tenma analog did ok on volts & amps.
I must say that I was impressed with the shipping from VoltageStandard! My DMM Check Plus was inside a good anti-static bag, and was in a large box stuffed full of foam chips to help keep it safe and undamaged. Way to go guys!!
I really like this unit and had a lot of fun comparing my meters with it. I figured that my Fluke 87 would win hands down, and it did. Let me show you some good pictures:
The DMM Check Plus uses a 9V battery, and has reverse polarity protection. The reference voltages and currents are derived from the Texas Instruments REF5050ID (3ppm/⁰C) precision voltage reference IC. The unit is calibrated with a 10MΩ load connected to the voltage output terminals for DCV; 10MΩ is the typical input resistance of most DMM's measuring DCV. 1MΩ load is used for ACV.
Take anti-static precautions when using the unit.
Recalibration is free for the first 2 years after purchase – just send it to them and include $4.00 in stamps for return shipping in the USA. After 2 years the charge is $5.00 plus shipping. You'll have to contact them for shipping charges outside of the USA.
I had a lot of fun writing this article, and I hope you guys/gals enjoy it! Please feel free to leave any questions or comments below. Thanks.

Robert Calk Jr. is a Hobbyist from the USA and loves learning electronics and how to repair electronic devices.
Please give a support by clicking on the social buttons below. Your feedback on the post is welcome. Please leave it in the comments.
P.S- Do you know of any your friends who would benefit from this content that you are reading now? If so, forward this website to your friends or you can invite your friends to subscribe to my newsletter for free in this Link.
Likes
(

133

)
Dislikes
(

6

)