How To Repair CFL Bulb -Lesson Learnt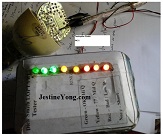 Some times ago I was able to help one of my friends who did small charity work by thinking differently. There is a free school for poor kids conducted by a temple close to his home. Having asked them to bring "burnt/removed" CFLs, he was able to collect about 67 bulbs after 3 month. Then we were able to fix about 46 out of 67 by following the tips I have discussed below. Then we handed over them to the school as a small gift. In my country the cost of a CFL is 4USD+, so we were able to save nearly 200USDs of that poor Kid's fund. However we spent only about 7USDs for the entire task. (ex: 13001 transistor  = 0.04USD here).
Lesson Learnt:

Generally, CFL comprise 2 part— CFL Glass and the Oscillator circuit. If the glass part is burnt or break, you can't fix it unless you find a good glass-part from another one. 
However if the glass is good, the issue must be on the circuit—Great! If the complaint of the cfl light bulb is flickering, no light, dim light (dimmable problem) or light shutdown after few seconds you can start repairing it as I have described below. 95% guaranteed !!

Separate the CFL in to glass & circuit safely. Test the connectors of the Glass (Pic 2) with a Multimeter (Connectivity check). If it's in a good condition you may see 20-40 ohm or hear the "shorted" beep from the DMM.  Both the pin-pairs must be good! If so then check the circuit.

On the circuit the first thing you must check is the fuse. If it's burnt, most probably rectifiers or switching transistors got shorted. 
1. Check all the rectifiers you can see on the PCB.  If you see a short circuit, it's better you check it by removing it from the PCB, because in some designs, a Toroid is used. Due to it's pin connectivity you may see surrounding components are shorted at your first glance.   
2. If all the rectifiers are good, then check 2 switching transistors by removing from the PCB. If you find any shorted rectifier or a transistor at this stage, just replace all of them. If not follow other steps.. 

Sometimes "blown fuse" issue can be seen due to shorted Inductors. So check it with a "blue ring tester" (Mr. Jestine Yong had discussed advantages of a blue ring tester many times. See my home made tester in Pic 4). If you can't see no more than 2 LEDs or no LED at all, just replace it (You must see at least 3 LEDs for this kind of inductors). 
If you have checked everything up to now, but the CFL is still dead—check all the resistors with a DMM and replace if you find blown one. If there is no Fuse even in the original design, put one (1ohm 1/2W) between the AC input and the PCB. At the same time, check the "Choke" with a blue ring tester. This time you must see even one Green light! See pic 5)
However its rare to see "blown fuse" due to a faulty of the Choke, bust it cause "No light" commonly.

If you see very Dim light, light goes off after a few second or even no light at all, most probably C3 ceramic capacitor is shorted. So check it and replace with a similar one (see Pic 1 & 3). 
If you find that the light is low than early, CFL lamp takes a few seconds to come up when the switch is on, hear hum, Dim light or no light at all—Check the electrolytic Cap and replace it. (see Pic 1 & 3). 
Now you have checked all the main culprits. If you are still unable to find the rote cause, just check the remaining components such as ceramic caps. Check whether the copper tracks of the PCB is damaged, AC wire connectivity is good. 
If you see a DB3 Diac, please don't bother on it. There is no chance to burn it. I haven't found even one case with a faulty Diac. 
By now you have checked nearly everything of fixing the CFL, however if you still can't locate it, please follow my "Secret-tip" below.
A Secret-tip!
If you have found all the parts including the switching transistors are good as I discussed, but still the light is dead-Just replace the 2 transistors with similar parts. Now you must get the light back—95% guaranteed!
Reason:
Normally we check 2 transistors without applying the voltage on them. Then we see no leak between P-N gates. However switching transistors or Hi-voltage caps can be shorted (leak) only when hi-voltage and hi-frequency is applied on them. However we can't identify this with a DMM during our regular testing process. So the only thing we can do is replacing them with new parts. 
** When replacing, please ensure E-C-B of the transistor, because I have seen 13001 transistors come with few different ping arrangements such as ECB, BCE..  if it's a 14W or above one, if you can, replace 13001 with 13003 . 
Having followed above discussed points, I'm sure that you will be able to fix the lamp successfully. 
By the way if you want to learn how to cut open CFL lamp to repair or salvage the components you can click on the video below:
***Don't forget about the disposal, dispose damaged Glass-parts properly, because mercury complexes inside them can cause hazards or problems to your life!!  

This article was prepared for you by Kushan Ranatunga who works as a Network Engineer in Sri Langka. He has been doing  electronic experiments since age 11.
Please give a support by clicking  on the social buttons below. Your feedback on the post is welcome. Please leave it in the comments.
P.S-  If you enjoyed reading this, click here to subscribe to my blog (free subscription). That way, you'll never miss a post. You can also forward this website link to your friends and colleagues-thanks!
You may also check out the here CFL bulb repair by Yogesh.
Likes
(

182

)
Dislikes
(

3

)