Magnavox LCD TV Repaired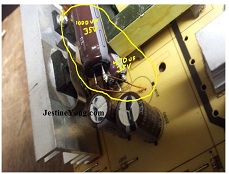 A friend recently brought a Magnavox 37MF321D/37 into my PC shop with the complaint of "Won't power on" She wanted me to take a quick look to see if it was an easy fix as she had already bought a new set and would use this as a spare if it was not too expensive to fix.
Upon initial inspection, the correct issue was power light blinks and TV attempts to turn on but does not. As I suspected bad capacitors, I proceeded to disassemble the unit.
After removing the main PSU board, I saw I was indeed correct. There was a bad 2200uf 35V , two 1000uf 35V and one 1200uf 35V as seen below.

Luckily I had a 2200uf 35V and the two 1000uf 35V from other boards. However I could not find a 1200uf 35V anywhere! Since this project had to be completed now or never (We are a busy PC shop and don't have much room to set this aside and wait for parts), I had to come up with a solution. Knowing it would be a bad idea to replace a capacitor rated for 1200uf 35V with a 1000uf 35V (I don't mind going slightly higher, but never lower than rated), I had to find another solution.  Since I had a 1000uf 35V and a  470uf 35V , I decided to hook them in parallel and see what they read on a digital capacitor meter. The reading was about 1350uf so I decided to proceed.

As you can see above, I attached the two caps in parallel using solid hook up wire and soldered them in place.
After assembling the TV, the power turned right on. We let the set burn in for several hours and reassembled it.  My friend picked up the set and it has been working well ever since.
Hope this article helps someone who may be in a similar situation.
This article was prepared for you by Matt Lipay from USA and he likes electronics repair.
Please give a support by clicking  on the social buttons below. Your feedback on the post is welcome. Please leave it in the comments.
P.S- Do you know of any your friends who would benefit from this content that you are reading now? If so, forward this website to your friends or you can invite your friends to subscribe to my newsletter for free in this Link.
Likes
(

192

)
Dislikes
(

0

)