Mini Digital Oscilloscope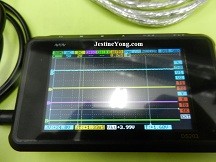 One of my repair friends came to visit me today.  As usual both of us talked only about electronics repair.  He is in the industrial electronics repair and he did showed to me those electronics circuit board which I found a bit more complex than consumer electronics circuit board. The problem with industrial electronics is very hard to find information such as the part number/spare parts and schematic diagrams. The board that he had shown to me looked very similar to those found in the automobile.

Later he shown to me a mini digital oscilloscope  (5Mhz-4 channels) that he bought from China during the electronics exhibition not long ago. The cost of the scope was about USD150.00. He told me that he used the scope to troubleshooting encoder card and very useful when using it on outdoor troubleshooting. He even use the mini digital oscilloscope on troubleshooting the Industrial type LCD Monitor inverter board.

Personally I do not own any mini digital oscilloscope because I already have few scopes in my workshop and also I do not provide outdoor service. If you have a mini digital oscilloscope please do share about your experience of how it has helped you in electronics troubleshooting-thanks.
Likes
(

9

)
Dislikes
(

0

)