Fixing a branded ATX power-supply of a PC for 0.50USDs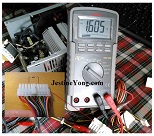 Even though the following article is about repairing a branded ATX power-supply of a PC, the scenario I discuses here might be a common issue for most of switching mode power supplies.

While I was working with my desktop PC, it went off giving an electric sparking sound like "Chitiz". Guessing it might be a PS issue, the PS was removed from the PC-casing.
Then having supplied 230V AC power, the output voltage between green and black wire of the ATX connector of the PS was checked. If a PS is in good condition, the voltage between green and black must be 5V.

However as it is in the above picture, the voltage between Green and Black was 1.6V. So it's pretty clear that the PS was faulty. Then I removed the metal cover of the PS and checked for any burnt components such as burnt resistors, E-bulged caps ….but I couldn't find any clue at once .
For making further testing easy, I removed one of the heat sinks and checked the following primary side component of the SMPS:
H/V of two main filter caps are correct

However I found no voltage at primary side of the Chopper transformer!! So, most probably the issue should be at the primary side of the SMPS. Then I check directly connected components to the Chopper and found one Fusible Resistor (1 Ohm, 1/2W) got open ! Then, suspecting, one IC (TNY268P Switcher ) which was directly connected with the opened resister, was removed from the PCB and checked. I saw most of pins of the IC got shorted. Having deeply checked it was confirmed the surrounding components were good. 
*** you can find the above two burnt components under the heat sinks!

Then I replaced the Fusible Resistor and the IC – TNY268P with new parts. In Sri Lanka, I spent only 0.5 USDs for above 2 components. Having replaced I checked the voltage between green and black wires again — Now I found 5V  (4.947v) there !!! My PC is working perfectly now!!! 


This article was prepared for you by Kushan Rnatunga who works as a Network Engineer in Sri Langka. He has been doing  electronic experiments since age 11.
Please give a support by clicking  on the social buttons below. Your feedback on the post is welcome. Please leave it in the comments.
P.S- Do you know of any your friends who would benefit from this content that you are reading now? If so, forward this website to your friends or you can invite your friends to subscribe to my newsletter for free in this Link.
Likes
(

316

)
Dislikes
(

1

)