Riello, Dialog Plus 70, UPS, no output repair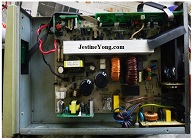 This unit was brought to me from Makis, a good friend with the complaint that it had no output.
The unit had no batteries in it when I received it for repair.
You can see its front view below

And its back view below

And this below is a side view with its main PCB along with all its auxiliary PCBs mounted vertically on it. On the opposite side is the batteries' compartment.

When I connected two 12V test batteries in series to it and tried a first functional test of it, I only heard a long beep sound escorted by a red flashing warning light in its front panel display. Nothing more.
After that first test I removed the main PCB in order to inspect its solder side first. The view of it was not good at all. It was obvious that the unit suffered from electrolytic corrosion in some of the copper foil tracks of its main PCB. This below is the solder side of the main PCB after I had it thoroughly cleaned with cleaner spray and after the first repairing step as I further explain in the following text.

Now take a good look on the top-right side of this photo. You will easily distinguish my rework on these shiny parts of the PCB foil tracks. Their color was originally as dark as it is the color of these four tracks on the top-left side of the above picture in all their way as they leave the connector's joints.
Below you can see in much higher detail the rework I did on the top-right side. You will also distinguish the "dead man" I "buried" in the external foil line, exactly at the curved part of it.

On the rest of them first I removed their over coating green paint layer and then I applied a fresh layer of tin on them. The external one had already completely lost a significant length of its copper foil which I replaced by burying tinned twisted copper strands over the missing copper track. (This procedure is known as the "dead man" technique).
When I ran a test on the unit after that, it worked normally. This non conducting foil track was connecting the coil of the main relay with the collector of the relevant transistor which controls it. And the contacts of this relay connect the internal power output stage of the circuit with the output connectors of the unit, located in its back side. This was the reason that the unit had no output. It had no other defects than these electrolytic corrosion problems which were already developed in significant degree. And this corrosion was caused because of the improper working environment of this UPS. Working in a small and always closed room with its ambient air being highly oily due to a leaky electromechanical device working nearby and the continuously re-circulating air within it through its cooling fan caused an accumulation of powder-like dirt similar to car exhaust deposits on the copper foil side of the PCB, exactly above these black colored tracks of the photo, which I finally repaired. This effect, over time, caused the aforesaid the corrosion of these copper tracks…
Needless to say that its fan was in the worst condition in terms of dirt on it. I dismantled the unit and washed it out with cleaner spray and re-lubricated it afterwards. What you see in the photo above, showing the back side of the unit, represents its condition after the repair and cleaning of it…
As you can easily understand I took this solder side photo of the main PCB before doing anything on its top-left side, on purpose. I referred to it in order to emphasize on the discoloring of the PCB foil tracks there. Look carefully the same area again, below

Can you distinguish the dark color especially the fourth foil track has (starting from the external one)?Look what happened to these foil tracks, beneath their paint layer, below

And this is how they look like after the rework I performed

Because of the high degree the corrosion problem had reached, I decided to check the front panel of the device as well. You can see it below

Here also, as you can see above, there were three more corroded foil tracks which I repaired by applying a layer of  fresh solder tin on them again. I did the same at its back side. I refreshed all the solder joints of it and put a layer of tin in these parts on the right side of it where the thick ground foil track is.

After finishing the repair I put the unit in test operation connecting to it those two batteries I have for test purposes and waiting to see the proper charging process of them.

After this final verification which was free of any other problems, I reinstalled its top cover closing the unit. The repair was successfully over and this UPS was ready to be put in normal operation again making my good friend Makis very glad with its survival…
This article was prepared for you by Paris Azis from Athens-Greece. He is 59 years old and has more than 30 years' experience in electronics repairs, both in consumer and industrial electronics. He started as a hobbyist at the age of 12 years and ended his professional carrier as a senior electronics technician.  He has been a specialist in the entire range of consumer electronics repairs (: valve radio and BW TV receivers, transistorized color CRT TV, audio amps, reel and cassette tape recorders, telephone answering and telefax devices, electric irons, MW cooking devices e.t.c) working in his early stages at the official service departments of National-Panasonic first and JVC afterwards, at their premises in Athens.
Then he joined the telecoms industry, working for 20 years as field supporting technician in the sector of DMRs (: Digital Microwave Radio transmission stations), ending his carrier with this subject. Now he is a hobbyist again!
Please give a support by clicking  on the social buttons below. Your feedback on the post is welcome. Please leave it in the comments.
P.S-  If you enjoyed reading this, click here to subscribe to my blog (free subscription). That way, you'll never miss a post. You can also forward this website link to your friends and colleagues-thanks!
Note: You can check out his previous repair article below:
https://www.jestineyong.com/10-ampere-d-c-analog-panel-instrument-repair/
Likes
(

154

)
Dislikes
(

0

)