Samsung HT-TZ315 DVD Player loading forever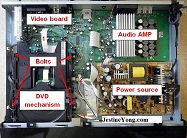 Today I got a Samsung HT-TZ315 dvd player who has a problem of loading the dvd. This means, if I wish to play a dvd then it shows only loading on the front lcd but the dvd will never loaded and the music or movie will never start playing.

This is the picture without the cover.
Are you realizing what is happening?
The lcd shows "LOADING" but the disk is not rotating. For some reason the motor that rotate the dvd didn't turn on. The problem could be:
– bad contact, broken pcb, flat cable etc.
– some bad components
– bad driver ic
– bad motor
– firmware problem
This is the list how I will do my checking and repairing continuity. Let's go and repair this little monster.

This is the overview of the dvd player. The dvd mechanism is connected with 3 flat cables. On the picture above, I labeled the cables with numbers from 1 to 3.
cable to the laser optic
cable for the laser optic motor, dvd rotary motor and the tray switch
cable for the tray open/close motor
All this cables has to be disconnected and the four bolts have to be removed to take out the dvd mechanism safely. For first, I checked the cable and connector under the number 2.

When I gently flipped the connector, I felt that the contacts gently moved on the legs 1 and 2. That's the legs for the motor that rotate the dvd.

Just in case, I checked the entire path from the connector to the AM5766 driver IC. In some case when connector this type have a bad soldering joint it could be does the wiring under the legs are broken, or another wiring next to the bad soldered leg are broken.

This is the AM5766 driver IC how it is wired on this model of dvd player.
After the test I resoldered the contact and reassembled the unit to se did, I solved the problem. The result was positive, the dvd started to spinning and the movie started playing and no more loading forever on display.

I hope you enjoy this tutorial and will save lot of repair time.

This article was prepared for you by Christian Robert Adzic from Novi Knezevac-Serbia.
Please give a support by clicking  on the social buttons below. Your feedback on the post is welcome. Please leave it in the comments.
P.S-  If you enjoyed reading this, click here to subscribe to my blog (free subscription). That way, you'll never miss a post. You can also forward this website link to your friends and colleagues-thanks!
Note: You can check his previous post in the below link:
https://www.jestineyong.com/lm317-adjustable-voltage-regulator-testing-method/
Likes
(

155

)
Dislikes
(

4

)