Shorted Transistors In Singer Active Speaker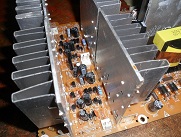 The complaint of this Singer active speaker was unclear sound and low sound output. This problem can be due to the power supply producing improper dc output voltages or the main Amp circuit fault. Since we can't guess where the fault is, I had to open up the cover and do a visual inspection check on the internal boards. The below photos are just how the internal boards look like:


There seems no burnt components in both the power supply and the main AMP board thus before I checked on the components I need to discharge the main big capacitor first . In the below photo, C508 is the main filter capacitor.

After discharging the main filter capacitor I performed the test on main AMP output transistor.
I checked the transistor on board (below photo) and found that the reading was abnormal.

Due to this I had to remove the transistor out of the board and checked it off board. True enough, the transistor (TIP42C) was shorted when tested it using Ohms range.


You may click on the above photo to visit the TIP42 Datasheet website
There was a pair of such transistors and since I already removed the first transistor, I took out the one and tested it. It was leaky too.

There was no other bad components in the corresponding circuit.
I replaced only the two transistors and powered it up and the sound came back to normal again.

Conclusion- When you have understood how to test and check electronic components using the right meters, you can practically try to repair all kind of electronics equipment. Before that, you must know the electrical safety to avoid being electrocuted. If you know how the circuit work and voltage/signal tracing…this could be an added advantage. If you are a beginners and wish to venture into this electronics repair field, I suggest that you get Jestine's ebook in Basic Electronics Troubleshooting and Repair to start first as the information provided can cut short your learning journey. All right, will see you again in the next repair article.

This article was prepared for you by Suranga Bandara who owns an Electronics repair shop in Anuradapura, Sri Lanka.
Please give a support by clicking on the social buttons below. Your feedback on the post is welcome. Please leave it in the comments. If you have electronic repair articles to share with us, please contact us HERE.
P.S- If you enjoyed reading the above article, click here to subscribe to my blog (free subscription). That way, you'll never miss a post. You can also forward this website link to your friends and colleagues-thanks!
Note: You may check out his previous post in the below links:
https://jestineyong.com/blown-high-voltage-capacitor-in-power-primary-side/
Likes
(

70

)
Dislikes
(

0

)