Solar Renewable Energy Installation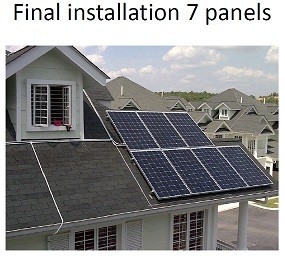 I am happy that my solar system is now connected to Tenaga Nasional Berhad (local electricity company) and already starting to export electricity to Tenaga Nasional since 9 July.  This is shown by the no. of electricity units recorded by the TNB installed Renewable Energy meter.  Heck, I get very excited every day returning home from office, I will read this meter first.  I expect to get RM350 paid by TNB direct to my bank account at the end of next month. 
TNB pays PV owners RM1.3708 per unit
, consumers have to pay TNB about 27sen/unit for the first 300 units consumed.
Note: RM1.00 is about USD0.30 and PV means PhotoVoltaics.
Why you should consider investing in a PV system:
1. If your bills average to about RM250 ~ 300 per month, you could end up having your TNB bill financed by your solar system, with money to spare.
2. It gives 
guaranteed income for the owner for the next 21 years
. This is through the Renewable Energy Power Purchasing Agreement (REPPA)signed by the owner and TNB.
3. The owner could be 
cushioned from future electricity rates increase
, as your system generates electricity that TNB is obliged to pay you at the contracted rate.
4. The system has zero moving parts and is 
designed for 25 years service
.  Maintenance is mainly keeping the panels free from dirt (once a year) and generally ensure the system is functioning.
The cost of my installation is RM35,000.  It would vary with the individual house total electrical consumption.  Also depends on how many panels can be installed.  In my case, the service provider could only find space for 10 panels on my roof.  I had 80% of the cost financed, I had worked out that the system will pay back 8 years from now. Take a look at the pictures of Solar PV installation at Presint 18, Putrajaya Malaysia.
Cheers,
The article is contributed by Junaidi and he is one of my ERG members from Malaysia.
Likes
(

6

)
Dislikes
(

0

)