STK IC Tester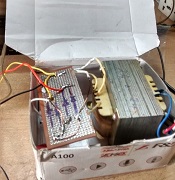 I got one Sony FH-909R for service, with the complaint 'no audio output'. On checking, it was found that the STK4152MkII was getting hot and high voltages were present in the speaker outputs, activating the speaker protection relay to shut it off. From my experience and after doing some preliminary check-ups, and also after noticing that the 34 V DC (dual supply) was dropping to 24V, I concluded that the STK is defective. So, ordered for one from UTSource and got it recently.
But on replacing the IC, the result was same! So, I suspected that it could be a fake IC, as is common in the market. Later, better sense prevailed in me and I thought why not I build one STK Checker, with a readily available assembled PCB made by Sri Guru, Delhi-6.This has all the leads etched in PCB pattern itself, and looked like a good one.  Please see pictures below:


Now, the main draw back will be soldering the 18 pins on to this board every time and de-soldering it. As we all know, the board will not last longer. So, the next idea struck me as to why should I not provide an IC socket? But getting an 18 PIN single line IC socket is almost impossible. So, what I did was picking up an 18 pin dual line IC socket, cut it into two and solder it on to the board! Before that I checked whether the IC pins are properly aligned to go into this socket and found it was a perfect fit.  Please see picture:

Then I provided three crocodile clips for the plus, minus and ground connections. Red wire for plus, yellow wire for minus and black wire for ground. The crocodile clips were selected as Red for plus, black for ground and 'bare' (removed its plastic sleeve) for minus.  Then provided speaker wire and two IP sockets for the speaker outputs. Please see picture:

This board has two fuse holders in the speaker output. Then, with a PCB poker pin, I pushed each and every socket in the IC socket, to make room for the IC pins to go in smoothly.After inserting the suspected defective IC firmly into the socket (each leg has to be pushed in tightly with a tweezer), I rechecked all the connections.
As for the power supply, I used a 24-0-24 3A Transormer, with two 4700mfd/50V capacitors and 4 Nos. IN5408 Diodes, and fit this in a cardboard box. So, now I have a 30-0-30V 3A power supply!  Pl see picture below:


Then I powered it up.  When I checked the voltages at the output of the speakers, it was 0. So, switched it off, inserted two 1.5A fuses, and connected the speakers and switched it on. When I touched the inputs with a screw driver, loud noises were heard from both the channels, proving that the IC indeed was good! Now, I have to comb through the circuit of the Sony and locate the culprit that causes malfunction of the IC.
I am going to use this checker for checking a few other used STK series ICs (The circuits are common for almost all STK41 Series ICs) given to me by my friend long back! Hope this article will be of some use to my dear most Electronic hobbyists across the globe!

This article was prepared for you by Parasuraman Subramanian from India. He is 65 years old and has more than 30 years' experience in handling antiques equipment Valve Radio, Amps, Reel Tape Recorders and currently studying latest techs classes conduct by Kerala State Electronics Technicians' Association. He was a BBA graduate, retired as MD of a USA company and presently working as Consultant Manager, Purchase & IT, in Irinjalakuda Cooperative Hospital.
Please give a support by clicking  on the social buttons below. Your feedback on the post is welcome. Please leave it in the comments.
P.S-If you enjoyed reading this, click here to subscribe to my blog (free subscription). That way, you'll never miss a post. You can also forward this website link to your friends and colleagues-thanks!
You may check on his previous repair article below:
https://www.jestineyong.com/national-panasonic-rx5100-radio-cassette-repaired/
Likes
(

163

)
Dislikes
(

3

)