Quick And Easy Test Light Conversion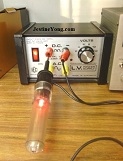 For many years Automotive Technicians have used a test light with an incandescent globe for testing circuits and electrical fault finding such as to locate a defective fuse. You can check out the video below to see how to use a test light to find a bad fuse:
In recent decades, though, more up to date equipment must be used to protect delicate electronic circuits in modern vehicles.
A workmate of mine has always used the old style test light but realized the advantages of a LED test light and asked me if I could convert one of his old test lights.


After finding a base to locate the LED (I used a spare hose cap for this), I removed the globe and fed the wire through the side rather than the existing hole at the top. It is less inclined to get tangled this way.
I used a Bi-Colour Red/Green LED and a 330Ω resistor to suit. After about ½ hour the successful conversion was complete.

At only 20 cents AUD for components compared to $35 dollars AUD for a LED test light, I'd say that the conversion was well worth the effort and my workmate agreed.
Here is the schematic:

You can download the LED information from the link below:
http://pdf1.alldatasheet.com/datasheet-pdf/view/87056/KINGBRIGHT/L483GDT.html
This article was prepared for you by Mark Rabone from Australia.
Please give a support by clicking  on the social buttons below. Your feedback on the post is welcome. Please leave it in the comments.
P.S- Do you know of any your friends who would benefit from this content that you are reading now? If so, forward this website to your friends or you can invite your friends to subscribe to my newsletter for free in this Link.
Likes
(

189

)
Dislikes
(

0

)