Toroidal Transformer Failed In Cambridge DVD Player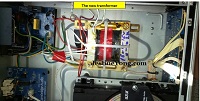 Make and Model: Cambridge Audio – Azur 540C
Problem reported: Dead
Preliminary observation: Checked and found that the fuse was blown and the primary winding of the toroidal transformer was open.
Rectification done: Took clear snaps of the connections of the transformer and its measurements. Removed it and tried to get it rewound. Since the cost of rewinding was almost three times more than that of making a new normal transformer, got a new one made matching the output voltages and without the 110V winding in the primary, after obtaining the consent of the customer. The secondary had two outputs. One was 16-0-16 0.5A and another was 0-10V 2A. Also ensured that the size of the transformer did not exceed the limits. Replaced the fuse and connected the transformer without fixing it inside the cabinet and applied power. Found the DVD player working well. Then fixed the Transformer inside the cabinet using tags, for which I had to drill a couple of holes at the bottom. The player was working very well when checked continuously. Satisfaction got added to its collection.
Caution: The tray was so flimsy that if we push it in by hand, it will go out of alignment! So, we should only use its remote or panel controls for ejecting or loading. Once it got misaligned, the player would show error. It is very difficult to put it back in its original track. I do not know whether it was a problem in this set due to wearing out or a design problem!
Here are the pictures:





This article was prepared for you by Parasuraman Subramanian from India. He is 70 years old and has more than 30 years' experience in handling antique equipment like Valve Radio, Amps, Reel Tape Recorders and currently studying latest tech-classes conducted by Kerala State Electronics Technicians' Association. He has done graduation in BBA degree, private diploma in Radio Engineering and retired as MD of a USA company. Presently working as Consultant to Hospital and other institutions.
Please give a support by clicking on the social buttons below. Your feedback on the post is welcome. Please leave it in the comments.
P.S-If you enjoyed reading this, click here to subscribe to my blog (free subscription). That way, you'll never miss a post. You can also forward this website link to your friends and colleagues-thanks!
You may check on his previous repair article below:
https://jestineyong.com/dry-solder-caused-no-light-in-mr-light-emergency-light/
Likes
(

71

)
Dislikes
(

1

)