Weller WTCPS Soldering Station model PH1201 Does Not Heat Up Repaired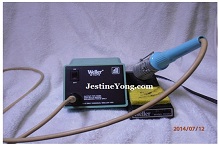 A friend brought this soldering station to me because he got it from an employee sale where he worked and did not work with something loose inside of the unit. This soldering station does not have a power on lighted switched, so you have to wait a couple of minutes and check for heat from the soldering iron.

After a few minutes, feel no heat from soldering iron. Since this unit provides 24 VAC to the soldering iron, time to check the voltage out from pins 1 & 2 on the 3-pin connector, pin 3 of this connector is ground. Pins 1 & 2 measured no AC to heat soldering iron.
It is time to take unit apart to find out what is loose inside and find problem. You have to remove the plastic footpads in order to get to the four screws that hold the unit together. You will need a thin, flat head screwdriver to work out the plastic footpads. Once out, you can then remove the screws to open the case. It takes a little bit of force to get the plastic footpads out, so be careful.

The unit comes apart in three pieces and then you can see what is going on. Found the problem and loose part responsible for the soldering station not to work. A loose cable twist was found inside.

Because of this, two wires were not connected.

Picture shows what was found. Since this unit worked fine for years, assembly of the unit is at fault.

I used the same wire twist that was found loose inside of the unit to connect the wires together again. To test this soldering station with no visible 'on' light, after a few minutes, you will feel heat from the soldering iron if you hold your hand near the iron. However, the best ways to test the soldering iron, is using a little solder applied to the tip, and then see solder melt and that familiar smoke and smell.

Now the soldering station is working again.
Note: To keep your soldering iron's tip in good condition, after every use, you wipe the tip clean on a moist, cloth sponge or your cheap cellulose sponge as seen in the pictures. Then apply some solder to soldering iron's tip until you get a little ball formed on the tip. Then turn your soldering station off for the day. This way you will extend the life of your soldering iron's tip. I still have the same soldering tips in my Weller Soldering Stations for over 25 years because of it!
Richard Dekneef  repairs electronic equipment and design custom audio equipment. He also work on video equipment and have a complete TV studio w/green screen capability.
Please give a support by clicking  on the social buttons below. Your feedback on the post is welcome. Please leave it in the comments.
P.S- Do you know of any your friends who would benefit from this content that you are reading now? If so, forward this website to your friends or you can invite your friends to subscribe to my newsletter for free in this Link.
Likes
(

150

)
Dislikes
(

1

)