331-2KV Cap Blasted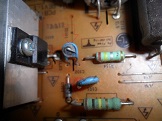 This LG 32″ LED TV came in for repair with the complaint of no power. From experience, no power usually are due to failure in power supply and the main board. Eventhough power supply is working, if the mainboard is not working, it will cause symptom like no power. So the first thing you need to check is to make sure the main fuse is not blown and that the power supply must produce good dc supply voltages. In the below photo, the power supply and the mainboard was not covered but the T-con board you can see it was covered with a metal shielding.

The main fuse did not blow and I have to use visual inspection to see if there is any burnt component.
Seeing the circuit board from one side is not good enough to judge if there is any burnt component. You have to look at the board from different angle.

True enough, looking at another angle I found the 331-2kv capacitor was blasted. Since I found a bad component, I had to check on all the corresponding components too. Remember, you do not need to be a professional TV repairer in order to check the electronic components. Just go through Jestine Yong's ebook in Basic Electronics Repair you can already start the electronics components checking and in fact you can use his methods to check on other electronics circuit boards.

Okay let's continue, further checking found three components that were bad and need replacement. I'm taking the risk of not replacing the power IC but of course I have used a light bulb to test it first.

The light bulb went off with good DC output voltages indicating the power supply was good. I put everything back and powered On the TV and the display came back normal. See the photo below:

Conclusion- If after putting in the light bulb and if it bright or no DC output voltage, guess I have to replace the power IC and retest it again. Okay will see you again in the next repair article.

This article was prepared for you by Suranga Bandara who owns an Electronics repair shop in Anuradapura, Sri Lanka.
Please give a support by clicking on the social buttons below. Your feedback on the post is welcome. Please leave it in the comments. If you have electronic repair articles to share with us, please contact us HERE.
P.S- If you enjoyed reading the above article, click here to subscribe to my blog (free subscription). That way, you'll never miss a post. You can also forward this website link to your friends and colleagues-thanks!
Note: You may check out his previous post in the below links:
https://jestineyong.com/31-8-vdc-is-not-good-enough-to-power-up-led-tv-backlight/
Likes
(

70

)
Dislikes
(

1

)