A Dead Xbox Power Supply Brought Back To Life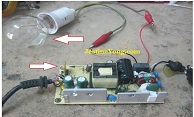 A friend of mine called me and asked if I was in the shop. We were under lock down at that time. He wanted me to fix his Xbox power supply as soon as possible because his kids are driving him crazy.

If you carefully look at the specs of the power supply in the photo you will have an idea what went wrong with this one.
Yes, it is rate 127 AC volts but by mistake it was connected to a 220 AC volts source. Boom, the charger was dead.

As I took the four screws off and exposed the inside of the power supply I came across this damage. The main capacitor was blow open from the top and based on that I am sure the juice of that capacitor is all over the place. As a rule in my home town because of the Corona Virus, we have to wear masks and gloves all the time so I was kind of ready for this kind of repair.

As you can see, the capacitor was carefully taken off and a heavy cleaning was done on this board. After it was all clean and shinny, I proceeded with the repair.

The main capacitor was replaced and as you can see, it was rated 330uf/200 volts. As I checked for more blown components I found none.
It seems like the capacitor and the fuse took the main blown.

Before adding the fuse to the power supply I added a light bulb to the terminals of the main fuse and as you can see, the light bulb stayed dim indicating all is well. And if you pay attention to the stand by light, it was on and it was orange. This is a stand by light.
The customer came and picked up his power supply and this time connected it to a step down converter ( 220 down to 120 AC) because he called me and told me all was well. His kids were happy, he was happy and his house was a peace again.
Mission accomplished.

This article was prepared for you by Waleed Rishmawi, one of our 'Master Authors' and currently working in the Bethlehem area of Palestine repairing electrical and electronic equipment.
P.S- Do you know of any your friends who would benefit from this content that you are reading now? If so, forward this website to your friends or you can invite your friends to subscribe to my newsletter for free in this Link.
Note: You can check his previous repair articles in the link below:
https://jestineyong.com/three-bad-components-found-in-power-adapter/
Likes
(

80

)
Dislikes
(

0

)