A working 3GS iphone but a dead screen repaired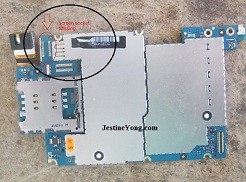 A relative from my wife's side brought this iphone to my shop and wanted this phone fixed as soon as possible. The moment I plugged into my laptop, I could hear the charging sound coming on. The ITunes program came on my laptop and that was a strong indication of a working phone. There was no display on the screen. In my thoughts, this was an easy fix but…well, let us put it this way, it gave me a heart time before it came back alive. Let us start.

The moment I took this phone apart, right away, I could see what was wrong with it. As you can see in the photo, the screen socket marked in red was missing. That means someone worked on this phone and instead of fixing it, that someone made it worse. That was a hard problem to fix because this kind of soldering is so complicated. I do not have the right tools for it. The pins on this socket are so tiny and very close together. The only way, I could do this kind of repair, is to replace the board. Lucky me, I had a spare board in my shop and that saved the situation there.
Unfortunately, the problem with this phone did not end up just here. The moment I installed the phone, there was display on the screen. When I made a call to the phone, it was suppose to ring and vibrate at the same time. It did not. I did more checking on the board and this is what I found.

This is the vibrator inside the phone. It was not spinning when it receives calls. The spinning head was broken and it had to be replaced. The moment it was replaced, I put the phone back together; I could feel the vibration coming out of the phone. That was like music to my ears. Here is what the vibrator looks like inside 3GS iphone. And usually it found inside of the case of this phone.

It gets its power from the main board through the tiny springs on the end of the vibrator. Finally the phone was put together and everything seems to be in good order. I was able to get it fixed and put a smile on someone's face. Mission accomplished.

This article was prepared for you by Waleed Rishmawi, one of our 'Master Authors' and currently working in the Bethlehem area of Palestine repairing electrical and electronic equipment. Please give a support by clicking  on the social buttons below. Your feedback on the post is welcome. Please leave it in the comments.
By the way if you have any good repair article that you want me to publish in this blog please do contact me HERE.
Likes
(

14

)
Dislikes
(

0

)